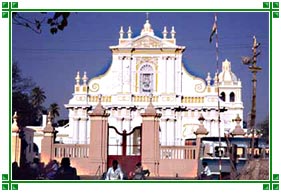 Pondicherry is a place with a number of churches and temples and other religious places. Some of the most beautiful churches include Eglise de Sacre Coeur de Jesus at the south boulevard, an oriental example of Gothic splendor. Its highlights are its rare and beauteous stained glass panels depicting events from the life of Christ. The 17th century Eglise de Notre Dame de la Conception Immaculate at Cathedral Street was renovated to its present form in 1791. The Eglise de Notre Dame des Anges at Rue Dumas is modeled after the Basilica at Lourdes, in southern France and is remarkable for its stonework where finest of limestone is used with egg white to give a texture resembling that of white marble. 10 km from Pondicherry, Sri Gokilambal Thirukameswara Temple at Villiannur is an architectural gem and is famous for its 10-day annual festival known as Brahmotsavam featuring the grand procession of a massive 15 m tall and splendidly carved temple chariot.
The nearby lake of Ousteri is home to several rare species of birds. Thirunallur Temple dedicated to Lord Dharbaraneswara Temple has Lord Shiva as its principal deity but its dedicated to Saneeswaram (Lord Saturn) is the most famous Saturn temple in India. The 12th century Varadaraja Temple is the most important Vishnu temple in town featuring Lord Narasimha sitting behind Venkatachalapathy, the main deity. The 18th cebtury Vedapureswarar Temple dedicated to Lord Shiva features stone inscriptions, a swayambhu (self-proclaimed) linga and a recent colorful gopuram. Karaikal Ammaiyur Temple enshrined the place where a female devotee called Punithavarthi lived in Karaikal, who later earned the place among the noted 63 Shaiva saints.
Dargah of Masthan Saheb Syed Dawood Buhari at Kuraikal, a Sufi saint from Buhara who died at an age of 120 in 1829, is famed to have performed many miracles. For more than 170 years now, Kandhuri Festival is celebrated in November here in his honor in which a huge flag is hoisted on a pole-reminiscent of a ship and for 10 days, a specially illuminated float extravaganza can be seen here. Manakkula Vinayakar Temple at Pondicherry is dedicated to Lord Ganesha. According to an interesting story, a Frenchman found the temple a nuisance and made several efforts to do away with the deity. However, it kept reappearing until he turned an active believer. Thus it is also known as Vellakkaran Pillai or white man's Ganesha.