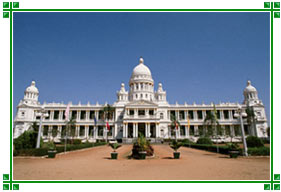 Mysore is believed to be the corrupted form of 'Mahishasurana Ooru', which means 'the town of Mahishasura'. According to a legend, Mahishasura was a wicked demon who had secured a boon for himself that no man could kill him. However, when his atrocities grew too much, Chamundeshwari, the Goddes and the patron deity of Mysore royalty killed him and freed the kingdom from his cruelty. The palaces and fragrant smells mark this erstwhile capital of Karnataka that blends perfectly with the clean, serene and easygoing aura of the city. The old world charm and rich aromas adorn the city.
Imposing and magnificent palaces and monuments testify the rich heritage of the city with well-planned beautiful gardens and sacred temples. The Wodeyar family continues to enjoy the mark of royalty since 14th century except for the turbulent forty years in the late 18th century when Hyder Ali and Tipu Sultan took over the city. Befitting the capital of Maharajas, Mysore has been carefully planned and has a distinctly native identity of a princely city. Besides the architectural heritage, Mysore has much to boast of including being the centre of fine arts such as music and dance, art and literature, a city of the learned and renowned scholars and skilled craftsmen, who flourished under the patronage of benevolent Wodeyar rulers.
Shopping Attractions:
The Mysore shopping highlights are sandalwood products, oil, and fine silk fabrics featuring the hand-woven silk sarees and garments along with rosewood and sandalwood handicrafts, copperware, stoneware, brassware, wooden furniture, sandalwood powder, perfumes and lacquer ware. Sayaji Rao Road is the best market place of the town. However, during the festival season, wares from all over the country are available here.
Mysore Tourist Attractions
The temple of Goddess Chamundeshwari is perched at 1,100-feet above sea level on Chamundi Hills. The royal family's patron deity can be reached by climbing 1,000 stone steps featuring the 3 century old 4.8m high statue of Nandi Bull halfway, which has beautifully carved ornaments adorning it. Another temple nearby is dedicated to Mahishasura, the demon killed by the Goddess.
How to Reach Mysore