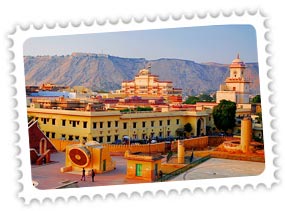 Location:
Jaipur, Rajasthan
Highlight:
Giant masonry astronomical instruments
Best Time to Visit:
October to March
How to Reach:
Jaipur is very easy to reach from any nearby place since it has its own airport and railway station. Since it is connected by a wide network of roads, it is very easy to reach Jantar Mantar in Jaipur.
The Jantar Mantar at Jaipur is a very interesting architectural wonder. Maharaja Jai Singh II constructed the Jantar Mantar at Jaipur between 1727 and 1734. The Jantar Mantar is basically an astronomical observatory that can be used to make various cosmic observations that are otherwise hidden to the general public. In fact, Jantar Mantar was built to make public take interest in the various mysteries of cosmic world. To know more about the famous Jantar Mantar of Rajasthan, read on further.
The Jantar Mantar derives its name from the Sanskrit words "Yantra" and "Mantra". The people in Rajasthan pronounce 'Y' as 'J', hence the name Jantar Mantar. Each construction has its own significance and combinations of these geometric monuments are used to calculate many different things like eclipse, planetary positions, etc. These observatories have fascinated historians, architects, artists and astronomers not just in India, but all over the world.
One of the main structures in Jantar Mantar is the giant sundial that is called Samrat Yantra. It is shaped like a huge triangle that has markings for minutes and hours. It can be used to tell the exact local time at Rajasthan. The time from sunrise to noon is shown by the left arc while the arc at right shows the time from afternoon to sunset. The time is calculated by observing the solar position and calculating according to the latitudinal position. The Jantar Mantar should be visited if you are visiting Rajasthan, as it is no less than an architectural wonder.