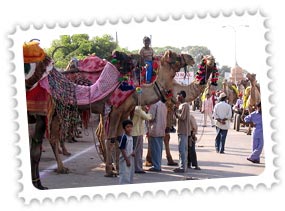 Location:
Udaipur, Rajasthan
Highlight:
Celebrations on a grand scale to mark the advent of spring season
Best Time to Visit:
October to April
How to Reach:
Udaipur has its own airport that is connected to major cities like Delhi, Mumbai, Jaipur, etc. The city has its own railway station and trains from major cities like Delhi, Ahemdabad, Jaipur, etc. ply over here. Udaipur can also be reached easily via a wide network of roads.
The best time to visit Udaipur is during March-April. This is the time Mewar festival of Udaipur takes place. The whole city of Udaipur is decorated beautifully in colorful streamers and one can feel that a grand celebration is just round the corner. The Mewar Festival of Rajasthan is celebrated to mark the advent of Spring season in India. The main highlight of this festival is the grand procession that takes place. Women are the main organizers of this procession and it is their job to decorate the idols of Isar and Gangaur beautifully.
The procession begins with enthusiastic performers singing and dancing and leading the procession through all major streets and roads. Lots of people, particularly women take part in the procession. The festival is celebrated for three days. To keep people entertained, the organizers encourage local artists to come and display their talents. Many cultural programs and plays are organized for the amusement of people. The three-day festival comes to an end when the idols are taken to Lake Pichola.
The idols are transferred on a specially decorated boat with much enthusiasm and fanfare. The main highlight of the celebration is the fireworks that are set afire at the end of the three-day celebration. The songs and dances add life to the entire celebration and people really enjoy the whole event. The Mewar festival is one of the most important celebrations of Udaipur in Rajasthan and the rich culture of Rajasthan is at its all time best. An event that should not be missed if you are traveling to India!