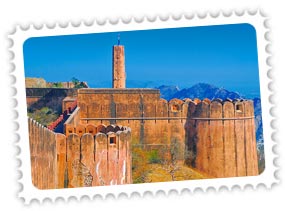 Location:
15 kilometers from Jaipur, Rajasthan
Highlight:
The world's largest cannon on wheels
Best Time to Visit:
October to March
How to Reach:
Jaipur can be reached easily from any nearby city as it has its own airport and railway station. Jaigarh Fort can be reached from anywhere in Jaipur by a wide network of roads.
The Jaigarh Fort of Rajasthan is located at a distance of around 15 kilometers from the center of Jaipur. It is situated 400 feet above the Amber Fort. The Jaigarh Fort in Jaipur is also known as the Fort of Victory. It is a massive fort that has been preserved and maintained well and has bravely faced the tempests of time. The Jaigarh fort was built between the 15th and 18th Century. The main entrance is called Dungar Darwaza and it is a magnificent structure that is sure to leave you breathless. So while in Rajasthan, do visit the Jaigarh Fort that is a symbol of the rich historical legacy of Jaipur.
One of the main attractions of Jaigarh Fort is the Jaivan. It is believed to be the biggest cannon on wheels in the world. It is very powerful but (thankfully!) has not been used in any war. It is believed that once a cannon ball was test fired from Jaivan and it landed at a distance of around 38 kilometers. The impact, they say was so powerful that a Lake was formed! Also, some villages located in Jaipur were completely destroyed due to the impact there! The man who fired the cannon died instantly and it was never touched again in future.
The Fort houses a museum that has a collection of ancient coins, puppets and photographs of the rulers of Rajasthan. The fort also has an underground water tank, which has a capacity to store 60,00,000 gallons of water. It is said that the rulers buried vast amounts of treasure at the bottom of this tank. However, nothing was found when government officials went to check it. The tank is now open for public viewing. The fort also has provisions for rainwater harvesting with many channels dug all around the fort that lead to the underground water tank. The bird's eye view from the high fort walls is enough to keep you mesmerized for hours together.