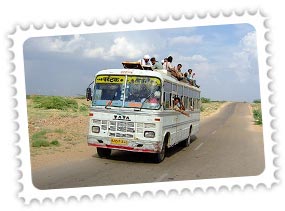 Rajasthan is located in the north western side of the Indian subcontinent. This beautiful desert state, complete with ancient palaces and forts, is one of the most desired tourist destinations in India. People tend to think since it is a desert state, traveling to Rajasthan is very difficult. As a matter of fact, getting to Rajasthan is as easy as reaching any other destination. If you want to know more about reaching Rajasthan, we shall provide you more information in this section that is called "How to Reach Rajasthan".
By Air
The main international airport in Rajasthan is located in the capital city Jaipur. The airport caters to many international and domestic flights. It is located in a place called Sanganer in Jaipur. Apart from this airport, there are three more domestic airports in Rajasthan. They are at Jaisalmer, Jodhpur and Udaipur. Rajasthan is well connected to strategic places in India like Delhi, Mumbai, Aurangabad, etc.
By Rail
Rajasthan is well connected to the rest of India by a wide network of railway lines. You can get train service to Rajasthan from just about any state in India. Rajasthan also has the much-famed Palace on Wheels, which is an absolutely royal treat for anyone who wants to travel in this royal train.
By Road
Rajasthan is well connected by a wide network of roads. There are many National Highways that pass through Rajasthan thus making traveling much more easy from nearby places like Delhi, Agra, Ahmedabad and Bhopal. Commuting from one place to other within Rajasthan is also very easy as there is a wide and well-maintained network of roads within the state.