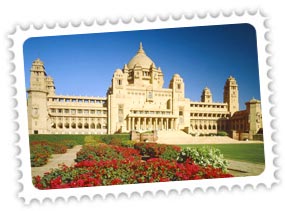 Location:
Chhittar Hill, Jodhpur
Highlight:
One of the grandest royal residences that also serves as a heritage hotel
Best Time to Visit:
October to March
How to Reach:
Jodhpur has its own airport and railway station. A wide network of roads ensures that one can reach Umaid Bhavan Palace with ease.
Located on the Chhittar Hill in Jodhpur, Umaid Bhawan Palace is one of the last palaces to be built in India. The grand Umaid Bhawan Palace in Rajasthan took almost 16 years to be constructed. Maharaja Umaid Singh is credited with having this beautiful palace built. The Umaid Bhawan Palace also serves as a heritage hotel that is constructed keeping mind the traditional style as well as modern amenities. The breathtaking structure surpasses all forts and palaces of Rajasthan. Read on to know more about the Umaid Bhavan Palace of Rajasthan.
The construction of this palace is certainly unique and it took almost 5000 men to build this massive structure. The most fascinating thing about its construction is that there has been no use of cement or mortar. Instead, carved stones have been conjoined by a unique technique of interlocking positive and negative pieces. The sandstone that has been used to construct it is also very unique, as it does not weather with time. The palace consists of sprawling gardens, carved balconies, beautifully constructed terraces that are decorated with the most exquisite and antique furniture.
The construction of the palace is pretty much inspired by the West and the modern lifestyle. This is evident from the elaborate ballroom that has been built to cater to the royal tastes of the residents. The palace has 94 royal rooms and various suites to cater to the needs of different visitors. The treatment meted out in Umaid Bhawan Palace befits the treatment given to kings. The kitchens dish out the most sumptuous delicacies and the cuisines are not limited to just India. You name it, they have it!
The swimming pool is an added attraction that has zodiac signs designed at the bottom with mosaic tiles. Take a peek in the private museum of the palace that has some amazing royal collections. This should give you an idea of the royal life of the owners of the palace. Tempted already? So pack your bags and come visit the famous Umaid Bhawan Palace of Jodhpur.