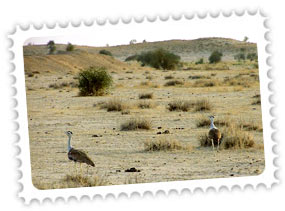 Location:
Jaisalmer, Rajasthan
Highlight:
Natural Desert sanctuary
Best Time to Visit:
October to March
How to Reach:
The nearest airport is at Jodhpur at a distance of 295 kilometers. Jaisalmer has its own railway station and a wide network of roads makes it possible to reach Desert National Park with much ease.
The Desert National Park of Jaisalmer is situated in the heart of the Thar Desert that is sprawled across Rajasthan. The Desert national park provides an ideal picture of the ecosystem of a desert and shows the rich and diverse flora and fauna of an arid desert. Most of the desert comprises of sand dunes and a rocky undulating terrain. The vegetation is sparse due to lack of water and one can find occasional trees and shrubs like Khair, Khejar and Rohira that grow on desert soil.
Though it may seem arid and lifeless, the Desert national park actually flourishes in some varieties of wildlife. One can find over 50 species of reptiles in the national park that includes monitor lizards, snakes like vipers and other common poisonous and non-poisonous snakes. The Desert National Park comes to life early morning and during sunset due to the loud and shrill cackles of over 150 species of birds.
These species include sandgrouse, partridges, bee-eaters, larks and shrikes. The rare Great Indian Bustard is also found here. Other birds include buzzards, eagles, falcons, kites, parakeets and babblers. The animals that are found here are various species of deer like Chinkara, Antelope, Blackbucks, jackals and different species of foxes. A visit to the Desert national park will give you an opportunity to encounter the wild side of the Desert.