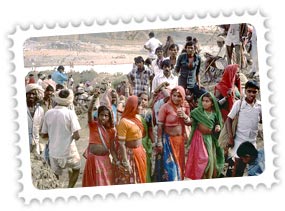 The festivals of Rajasthan are absolutely enjoyable. The rich culture and tradition are portrayed beautifully during the major festivals of Rajasthan. The riot of colors against the backdrop of the golden desert is a contrasting picture of vibrancy and silence. In Rajasthan, the festivals are celebrated with much fanfare and joy. Some festivals are exclusive to the state of Rajasthan, while some are celebrated only in some regions of Rajasthan. The state of Rajasthan comes alive in vibrant colors when a festival is celebrated. If in India, do not miss these major festivals of Rajasthan that are an absolute delight to attend.
Bikaner Camel Festival
Known as the Ship of the Desert, the Camel has been a fundamental part of the lives of the Rajasthani lifestyle since time immemorial. In order to acknowledge the importance of this useful animal, the Camel Festival of Bikaner is celebrated on a grand scale in Rajasthan. More...
Desert Festival
One of the most famous festivals of Rajasthan, Desert Festival is celebrated every year in the months of January or February. It is celebrated for a duration of three days and is concluded on the day of the full moon, known as Purnima. More...
Gangaur Festival
A very important festival in Rajasthan, Gangaur Festival is celebrated with much enthusiasm and joy. Exclusive to the state of Rajasthan, Gangaur Festival is celebrated nowhere else in India. More...
Kajli Teej Festival
The Kajli Teej of Rajasthan is a very unique festival of India. Kajli Teej is celebrated exclusively in the Bundi region of Rajasthan. It is celebrated in the Hindu month of Bhadra (July-August). More...
Marwar Festival
Celebrated during the months of September-October, the Marwar Festival in Jodhpur is dedicated to the folk heroes of Rajasthan. The entire city of Jodhpur comes alive with lively celebrations of the Marwar Festival in Rajasthan. More...
Mewar Festival
The best time to visit Udaipur is during March-April. This is the time Mewar festival of Udaipur takes place. The whole city of Udaipur is decorated beautifully in colorful streamers and one can feel that a grand celebration is just round the corner. More...
Teej Festival
The Teej Festival of Rajasthan is one of the most important and the most widely celebrated festivals in India. Teej Festival is also known as the "Festival of Swings" as women tie swings on the branches of trees and enjoy swinging on them. More...