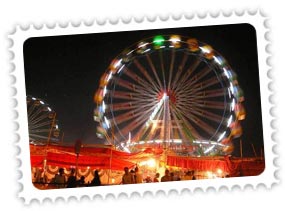 Location:
Ajmer, Rajasthan
Highlight:
Largest Muslim Fair in India
Best Time to Visit:
The airport closest to Ajmer is located in Jaipur at a distance of 135 kilometers. Ajmer has its own railway station and is also easily reachable by a wide network of roads.
The Urs Fair held in Ajmer is celebrated in the honor of the Sufi saint Khwaja Moin-ud-din Chishti. It is celebrated to mark the death anniversary of this revered saint. It is said that the mortal remains of this saint are buried in Dargah Sharif. It is a very famous pilgrimage of the Muslims in India who throng the place during the Urs fair. The memorial of the saint known as Dargah Sharif is the venue of the Urs fair in Rajasthan. The fair is held during the first six days of Rajab, which is the seventh month of the Islamic calendar. Read on about the Urs fair of Rajasthan.
It is said that the saint came to India from Persia to establish the Chishtia order of fakirs in India. The saint is also known as Gharib Nawaz, which means protector of the poor. He devoted his entire life to the service of the downtrodden and the poor. He lived for almost a hundred years and lived the life of a simple man. He never thought highly of himself and this only added to his already grace and saintliness. He expired in absolute peace and calm, disturbed by none.
During the Urs Fair, Ajmer is thronged by numerous devotees who come over here from far and wide to take part in celebrations. Muslims from all over India attend the Urs fair, the largest fair of Muslims in India. The place where the mortal remains of the saint have been buried is called Nazrana. This is where the devotees make their offerings and seek blessings. The items that are given in the form of holy offerings are roses, sandalwood paste, perfumes, incense sticks, jasmine, etc. If your wish is fulfilled you can give chaddar (blanket), neema and Ghilaph. Various professional singers known as Qawwals sit just outside the main worship place and sing praising the saint with full enthusiasm. It is a time for celebration and festivity in the memory of a great saint.