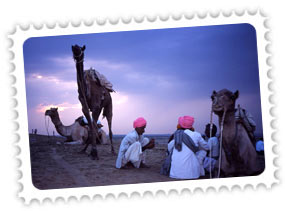 Location:
Ajmer, Rajasthan
Highlight:
Pushkar Camel Fair, Brahma Temple, Pushkar Lake
Best Time to Visit:
October to March
How to Reach:
Pushkar can be easily reached via roads and railways. The nearest airport is at Jaipur at a distance of 138 kilometers.
Pushkar city is an important place in Rajasthan. The place has an interesting legend behind it. Pushkar is one of the oldest cities in India. It is said that the place was created by Lord Brahma. He released a swan with a lotus in its beak and decided that He would perform a Yagna where the lotus fell. The lotus fell in Pushkar and that is how Pushkar derives its name. Its name means, "born of a flower". Now a frequently visited tourism destination, Pushkar is a favorite place of people not just in India but also all over the world. Travel to Pushkar, which is also known as the Holy city.
Pushkar is a famous pilgrimage center in Rajasthan. It is the only place in the whole world that has a temple dedicated to Lord Brahma. Devotees flock here to seek blessings of the Universal Creator. Pushkar has many small temples and is located on the banks of the Pushkar Lake. The Lake has around 52 Ghats where pilgrims flock to take a dip in the holy waters. There are five main temples in Pushkar that were built in the recent past. The ancient temples were destroyed during plunders and wars within the princely provinces.
A major attraction of Pushkar is the Camel Fair that takes place every year. You shall find information regarding the Pushkar Camel Fair in our related sections. Hailed as the biggest camel fair in the world, Pushkar, which is an otherwise sleepy town, comes alive during the time this fair is held. Thousands of people flock this fair to buy and sell livestock and also to add some enjoyment to an otherwise harsh desert life.
Pushkar is considered among the five Dhams, held to be the most sacred (other four being Badrinath, Puri, Rameswaram, & Dwarka)…