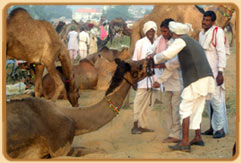 When it comes to celebrating fairs and festivals, there is no matching the pace of Rajasthan. One of the most popular and colorful fairs of the Thar Desert is the Pushkar fair, which begins on Kartik Shukla Ekadashi and goes on for five days till Kartik Purnima. The Pushkar Lake provides an ideal setting to the Pushkar Camel fair. The time of the fair coincides with the bright half of the moon during the months of October-November. According to the legends all the Gods visit Pushkar for 5 days every year. It accounts for the unbelievable number of devotees who flock to the lake to wash away their sins.
Main Attractions at Pushkar Fair
The scenic lake of Pushkar forms a fascinating location and a befitting backdrop for the annual religious and cattle fair. The Pushkar fair comes alive with the colorful Rajasthani dresses. The colorful headgears of men and veils and skirts of women bring alive the arid landscape of Pushkar. Village women dress in their best colorful clothes and finery for the five-day fair (mela). With more than 400 temples, Pushkar is one of the most sacred places in India. The most important temple of Pushkar is the Brahma temple. The sacred Lake is bound by 52 Ghats. During the Pushkar mela, thousands of devotees take holy dip in the Pushkar Lake.
Throughout the Pushkar fair, thousands of people crowd the stadium where camels, horses, and cows are paraded and raced. Camels are bought and sold during the Pushkar fair. Though cattle and other livestock are also traded, it's camels that hold center stage at Pushkar. Camel-traders and villagers from every nook and corner of Rajasthan throng to Pushkar with a large number of humped beasts. Over 25,000 camels are bought and sold making this world's largest camel fair.
An interesting event is the camel beauty contest, where they are adorned and paraded. All the camels are cleaned, washed, adorned, some are interestingly decorated to form patterns and special stalls are set up selling finery and jewelry for the camels. Camels at the Pushkar fair are decorated with great care. They wear jewelry of silver and beads. There are silver bells and bangles around their ankles that jingle-jangle when they walk. The piercing of a camel's nose is another interesting ritual.
On the roadside, stalls are set up to sell local items. Almost every household is engaged in setting up stalls as the local populace tries to capitalize on the massive influx of people. You can hire a camel to walk through this busy bazaar. Alcohol and non-vegetarian food is prohibited in Pushkar.