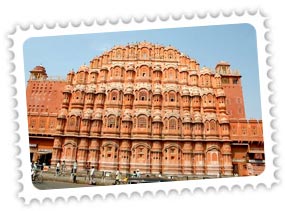 Location:
Jaipur, Rajasthan
Highlight:
Famous for its unique architectural style
Best Time to Visit:
October to March
How to Reach:
Jaipur has got an airport and a major railway station. Hawa Mahal can be reached very easily by a wide network of roads from anywhere in Jaipur.
One of the most famous and well-known landmarks of Jaipur is the Hawa Mahal. Built in the year 1799 by Maharaja Sawai Pratap Singh, the Hawa Mahal is known for its unique architectural style. It was designed by Lal Chand Usta. The Hawa Mahal is also known as the "Palace of Winds". The Main purpose of constructing the Hawa Mahal was to let the ladies of the royal household observe the daily hustle bustle of the city life without been seen by the rest of the public. Read about the Hawa Mahal of Rajasthan in the following lines.
The Hawa Mahal is an imposing structure that has five stories. It is constructed of red and pink sandstone and is highlighted with white quick lime. The Hawa Mahal has 953 beautifully carved windows. The wind circulates through these windows thus keeping the palace cool even in hot summers. The upper sections of Hawa Mahal can be accessed only through ramps, as there are no stairs. On entering the Hawa Mahal, one finds a big courtyard that is surrounded by double storied buildings on three sides. The one on the eastern side has three more stories.
The Hawa Mahal houses a small archaeological museum that has a collection of ancient artifacts that speak of the rich historical legacy of Rajasthan. The State Archaeological Department looks after the maintenance of the monument. The monument is best visited during the early hours of morning when pure sunshine dances through the windows giving it a mystical aura. The Hawa Mahal is truly one of the most remarkable structures of Jaipur and must not be missed at any cost.