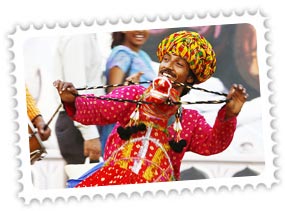 The traditional dances of Rajasthan are absolutely colorful and lively and have their own significance and importance. In Rajasthan, folk dances are the highlights of any celebration and festivity. The simple yet expressive dances of Rajasthan are enjoyed by one and all. Each and every detail regarding the costumes, make up and the way of expression are taken care of. Each dancer is skilled in his/her own way and each person has a unique style of performing it. These Rajasthani dances have been performed since very old times and thus are significant historically also. Given here are some popular forms of Rajasthan dances.
Ghoomar Dance
The Ghoomar is the most popular form of Rajasthani dance. Women perform this dance during auspicious events and occasions. The name Ghoomar is derived from the word "Ghoomna", which means twirling. The colorful skirts known as "Ghagra" look stunningly when they gracefully sway while the women dance.
Gair Dance
This dance is basically a tribal dance and is performed by both men and women. Gair dance is performed during Holi festival and is a very lively dance. The dress is basically a long tunic that opens out as a skirt. The dance beats are given by sticks to maintain the rhythm.
Bhavai Dance
The Bhavai dance is a very difficult dance and only highly skilled dancers perform this dance. It is a very impressive and stunning dance and one of the most popular dances of Rajasthan. The dance basically involves women dancers who balance eight to nine brass pitchers on their heads and dance softly and twirl slowly. All this, while balancing themselves firmly on the edge of a sword or on a glass!
Chari Dance
The Chari dance is basically a village dance, which is performed to express happiness when the villagers go in search of water and find it. The dancers choreograph the dance and many subtle patterns are formed by hands. The dancers are supposed to balance brass pots on their heads while performing this dance gracefully. Cottonseeds set aflame are placed on the topmost pot so that the movement of the heads causes the flames to form brilliant patterns.