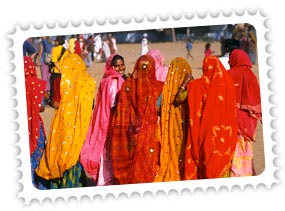 Location:
Jaipur, Rajasthan
Main Attraction:
Holy dip in the sacred Lake
Best Time to Visit:
March - May and October - March
How to Reach:
The nearest airport is at Jaipur. The nearest railway station is also at Jaipur. Banganga is also easily reachable via roads.
The Banganga Fair of Jaipur is one of the biggest events of Rajasthan. It is held every year in the months of April-May (Hindu month of Vaisakh). The Banganga fair is an event that has much historical significance in India. It is said that Arjuna, one of the five Pandavas created the lake at Banganga. During the famous battle of Mahabharata, Bhishma Pitamaha (one of the most revered warriors) was wounded by Arjuna. When he asked for water, Arjuna immediately shot an arrow in the ground from where water sprung up. Since then, this lake is considered very sacred. Read on about Banganga Fair held in Jaipur in Rajasthan.
The Banganga Fair of Rajasthan is considered an auspicious time to take dips in the Lake as it is said that your soul gets cleansed. On the full moon day of the month of Vaisakh, thousands of devotes throng this place to take a dip in the holy waters of this Lake. Besides the devotees, traders come here to sell their articles. These articles can be anything from toys, household items and handicrafts to rural equipments.
Both adults and children enjoy the various activities organized at the fair. Children enjoy the various joy rides that are organized for them like merry-go-rounds and giant wheels. Numerous devotees visit the sacred temple known as Shri Radha Krishnaji temple, which is situated at the banks of the Lake. They take dips in the Ghats as it is considered to purify the soul. One should not miss visiting this fair if traveling to Rajasthan.