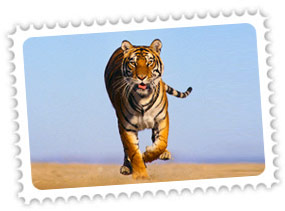 One of the most fascinating aspects of Rajasthan is its exquisite wildlife. The state is mainly a desert region, yet there are lush green forests in some parts of Rajasthan. It is in these patches that wildlife flourishes. Infact, Rajasthan wildlife sanctuaries are one of the most famous sanctuaries in India. Most tourists come to India to explore the wildlife in Rajasthan. To know more about famous Rajasthan wildlife sanctuary, read about the various aspects of Rajasthan wildlife.
The flora and fauna found in Rajasthan is unique and diverse. The varied topography of Rajasthan provides ideal conditions for wildlife to thrive here. The vast barren deserts of Rajasthan are the perfect place for reptiles to thrive and flourish. The rugged and rocky terrain of the Aravalis and the wetlands are perfect for the growth of lush green forests that are home to many different species of animals and birds.
The common animals that are spotted over here are various species of deer, tigers, panthers, leopards, reptiles, boars, bisons, monkeys, wolves and foxes to name a few. Besides these animals, there are a variety of birds that are spotted over here in great numbers. The lively twitter of the birds adds life in the sanctuaries.
There are four very famous wildlife sanctuaries in Rajasthan namely: Ranthambore National Park, Desert National Park, Sariska Wildlife Sanctuary and Bharatpur Bird Sanctuary. These wildlife sanctuaries are famous for their tiger population and are considered to be the ideal locations for wildlife lovers and photographers for capturing the Big Cat in their cameras. The best part about wildlife in Rajasthan is the safaris that are provided, which take you close to the untamed and unpredictable jungle life. Read more about these wildlife sanctuaries in our related sections.
Desert National Park
The Desert National Park of Jaisalmer is situated in the heart of the Thar Desert that is sprawled across Rajasthan. The Desert national park provides an ideal picture of the ecosystem of a desert and shows the rich and diverse flora and fauna of an arid desert. More...
Ranthambore National Park
The Ranthambore National Park of Rajasthan is located in Sawai Madhopur. Considered as one of the best wildlife reserves of India, Ranthambore National Park is the most filmed national parks of all. It is situated in Eastern Rajasthan at the converging point of Aravali Range and Vindhya Range. More...
Bharatpur Bird Sanctuary
One of the most famous bird sanctuaries in India, Bharatpur bird sanctuary in Rajasthan should be one of the topmost priorities on your travel itinerary. Bharatpur bird sanctuary is the only sanctuary that is man-made. More...
Sariska National Park
The Sariska National Park in Rajasthan is one of the most visited national parks in India. It can be reached easily from anywhere in Rajasthan and also from nearby places like Delhi. More...