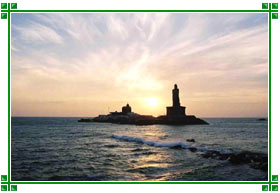 Kanyakumari, the southernmost tip of India, presents a confluence of the three great seas of Bay of Bengal, Arabian Sea and Indian Ocean. The regular coastline protrudes out into the sea at Cape Comorin. The district headquarters of the region, Kanyakumari is also a prominent pilgrim centre. Much famous for its beaches and picturesque sunrises and sunsets, it is a wonder to witness the sun rising and setting in the seas here especially on full moon days. This is the only place in India, where the sunset and moonrise can be viewed simultaneously on a full moon day. The paddy fields, coconut groves, mineral sands and blue waters give it beautiful surroundings. Named after the Goddess Kannyakumari Amman, the presiding deity of the area, it is said that Goddess Parvati in one of her incarnations as Devi Kanya did penance on one of the rocks here to get Lord Shiva as her husband.
Once known as the 'Granary of Travancore', Kanyakumari has multi-colored sand. However, the seashore is rocky and dangerous and a manmade wall marks the limit where one can venture safely. People and tourists are constantly warned to stay off the rocks and policemen are vigilant enough to turn away anyone more adventurous than desired. The lighthouse offers excellent views of the city. The sea is rough here and one can see sea waves splashing furiously against the rocky cliffs. The beach is a welcome change but does not offer the facilities of sunbathing or swimming in the seas. However, one may buy a variety of shells being sold on the Kanyakumari beach and visit the Vivekananda memorial situated on an island near the mainland.
Shopping Attractions:
Being a confluence of two great seas, the best choices to buy from Kanyakumari, as souvenirs, are the seashells in various shapes and sizes and handicraft items made from seashells and palm leaves. The other things are packets of colored sea sands and trinkets for those who would love to keep a bit of Kanyakumari with them always.
Kanyakumari Tourist Attractions
Kumari Amman Temple dedicated to Goddess Parvati as Devi Kanya (the Virgin Goddess) is an important shrine here.
How to Reach Kanyakumari