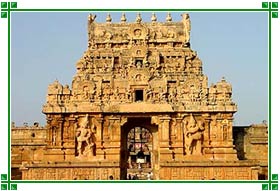 A centre of classical arts and music, of exquisite handicrafts and bronze statues, Thanjavur or Tanjore derives its name from Tanjan-an asura, a demon who was killed by Sri Anandavalli Amman and an incarnation of Lord Vishnu, Sri Neelamegapperumal. However, his last wish of naming the city after him was granted. The seat of Chola empire from 10th to 14th centuries, Thanjavur has a rich architectural legacy from their times evident in the number of temples and structures that are a living testimony to the splendor and skills of those times. The Brihadeeshwara temple and the Thanjavur Palace are the chief attractions of the place that represent the lifestyle in the past and have become the icons of the present-day identity of the city. Thanjavut is also known as a land of classical musicians, Bharathanatyam dancers, Tanjore school of painting and Thavil, a percussion instrument.
Situated on the shores of River Kaveri, Thanjavur is also known as the 'granary of Tamil Nadu' and the cultural capital of the region. There are 74 temples here, though the Brihadeeshwara temple is the most famous one, capped by an 80-ton monolithic cupola made of a single granite block. It was taken to the top by being pulled on a 6 km long inclined ramp just like the pyramids of Egypt. It is said to inspire the Prambanan temple in Indonesia and is considered an architectural wonder. The grandeur of the architecture and the sculptural finesse of the monuments of Tanjore are the evidences of the golden period of these arts in the city under the Cholas. The monolithic idol of the Nandi Bull, the mount of the Lord Shiva dates back to the Nayak period and is about 12 feet high and 20 feet long. It weighs about 25 tonnes!
Shopping Attractions:
Some of the popular buys at Thanjavur are Tanjore plates, which are inlaid with brass and silver, musical instruments like veena, tambura and mridangam, paper mache dolls, silk carpets, pith models of temples, garlands, unhusked paddy models and bell metal products.
Thanjavur Tourist Attractions
The 7th century shrine of Sri Subramanya is often referred to as an exquisite piece of decorative architecture to be found in the south of India and a perfect gem of carved stonework with delicate and elaborate patterns.
How to Reach Thanjavur