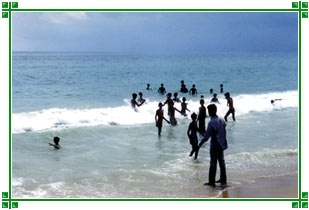 Sporting some of the finest beaches of South India, Tamil Nadu's capital Chennai has a long seafront including the very popular 12-km stretch of Marina beach. Rameshwaram, a major pilgrimage centre for Hindus, is famous as the place where Lord Rama offered thanks to Lord Shiva and its Ramnathaswami Temple is one of the most important temples in southern India. The calm and serene sea, rare sea species, coral reefs, multitude of marine life such as algae, sea cucumber, crabs, starfish, sponges and sea cows, dolphins and shallow waters mark Rameshwaram beach are found. This beach is ideal for sunbathing and swimming day and night and watch dolphins frolicking in the waters.
Covelong is another nice beach and also a small quaint fishing settlement separated from the mainland by the canal running from Chennai to Mahabalipuram. It offers wind surfing and swimming facilities along with visits to an ancient catholic church, a mosque and the Fort. Elliot's beach is lined with fast food joints, shrines and souvenir stalls and is a popular destination among the younger hearts. An excellent point for those seeking solitude and peace. Other popular beaches of Tamil Nadu are Chunnambar Beach, Pichavaram Beach and Poompuhar Beach. Here, we are going to discuss some of the most popular Tamil Nadu beaches:
Marina Beach
The second longest beach in the world and the longest in Asia, Marina Beach is known for its golden sands, good surfing opportunities and blue sea. The 12 km stretch of the beach is one of the major tourist attractions today. It was in the 1880's that Governor Mountstuart Elphinstone Grant Duff noticed the beauty of this place adjoining Bay of Bengal in Chennai and turned it into one of the most desirable holiday spots in India
Mahabalipuram Beach
The port city of Mahabalipuram or Mamallapuram, was once a port city of the Pallavas on the shores of the Bay of Bengal. It is home to exotic monuments belonging to the times of Pallavas including Sculptural Panels,
Kanyakumari Beach
The southernmost tip of India, Cape Comorin or Kanyakumari is one place in India where you can see Arabian Sea, Indian Ocean and Bay of Bengal at once, all merging into blue waters of a huge water body surrounding this important pilgrim center on three sides.