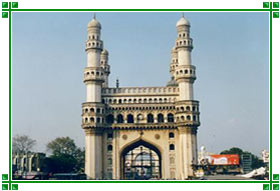 Hyderabad, the capital of Andhra Pradesh, is more than 400 years old. A bustling metropolitan city situated at an altitude of 650 m above sea level, hills, tanks, forests and rock formations dominate it. Richly endowed with diverse cultures, Hyderabad is famous for its unique harmonious existence of the old city dominated by Muslims such as the area of Charminar and the Anglo-Indian dominated modern Secunderabad, the twin city of Hyderabad. An attractive fusion of old-world-charm and industrial growth and enterprise, Hyderabad has a large share of majestic old edifices built in Medieval, Mughal, Colonial and Indo-Saracenic architectural styles along with the latest glass and chrome skyscrapers that are the commercial centers of the city. Mohammad, the fifth Quli Qutub Shahi ruler, founded the new city with Charminar as its center. It gained the status of the capital during the times of the famous Nizams of the Asaf Jah dynasty, who ruled the city until British took it over in 1948.
The twin city of Secunderabad was founded in 1798 by the then Nizam, Sikander Jah. With time, it merged with Hyderabad. Hyderabad is famous for its minarets and its pearl market. The artisans here are known for their skills in piercing and stringing pearls without damaging them and thus pearls from all over the world come here. The colorfully attired gypsy tribes called 'Lambadas' and 'Banjaras' of Hyderabad have gained fame throughout India. Known as the second Silicon Valley in India after Bangalore, Hyderabad has a Software Technology Park that houses leading IT industries such as TCS, Wipro, Baan and Satyam. Hyderabadi cuisine is unique. Even the Muslim cuisine here is the only cuisine of the sub-continent that can boast of a major vegetarian element. The key flavors of coconut, tamarind, peanuts and sesame seeds and chilli as the key spice, the piquant Hyderabadi culinary has almost become synonymous with 'Gosht', meat of a baby male goat.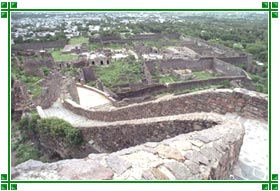 Shopping Attractions:
Hyderabad has been a major shopping center of India since the Mughals happened. One can buy antiques, handicrafts, jewellery, dresses, leather goods, pearls and semi-precious stones from here. Offering an international shopping experience, the best items to look for in Hyderabad are Kalamkari, the pen-painted fabric from Machilipatnam, Himroo, a very special fabric used mainly for shawls and furnishing, Handloom Fabrics, colorful Lacquered Bangles, Lambadi Mirror-work, the ever famous Pearls and jewellery, sarees and Zardosi-Embroidery Work, a specialty of Hyderabad.
Prime Attractions of Hyderabad
Built by Mohammad Quli Qutub Shah in 1591, Charminar was said to be the centre around which Hyderabad was once built. This majestic architectural monument is said to be built to commemorate the eradication of plague from Hyderabad
How To Reach