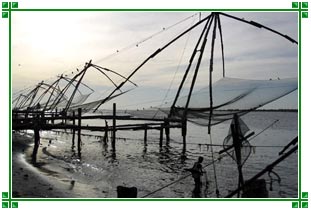 South India or Deccan India offers a whole plethora of the most beautiful colonial hill stations, port towns, religious centers, historic cities and attractive beach cities with a vast potential to seduce the tourists forever. However, all of them share the same aura and ambience of relaxed, peaceful and religious lifestyle, immense natural beauty and panoramic surroundings, spicy balanced cuisines and tranquility and serenity that are rarely to be seen in such modern and cosmopolitan cities that are always in par with the world's latest achievements elsewhere. The capital of Karnataka, Bangalore is known as the Silicon Valley of India and the Garden City of India because of its achievement in It industry and a number of well-laid out parks and gardens respectively.
Belur, Halebid and Hassan are known for the architectural and sculptural splendor of their temples while Mangalore has some of the finest and cleanest beaches in India. Hyderabad, the 400-year-old city is the capital of Andhra Pradesh and has developed itself as the second Silicon Valley of India after Bangalore. Vijayawada serves the triple purpose of being a major commercial, pilgrim and tourist destination of Andhra Pradesh while Warangal boasts of beautiful lakes, temples and wildlife and especially the thousand-pillar temple. The splendid beaches of the beach city, Vishakapatnam, a major shipbuilding centre are a major attraction of South India. Tirupati Tirumala Balaji dedicated to Lord Venkateshwara is the world's richest temple and the backbone of Andhra Pradesh tourism industry.
Alappuzha in Kerala is the popular base of the delightful backwaters in Kerala. Idukki and Munnar offer beautiful hill resorts with a number of opportunities for adventure enthusiasts such as trekking. Thiruvananthapuram or Trivandrum is the capital of Kerala while Trichur is the cultural capital of the state. Guruvayoor and Sabarimala are the most famous pilgrim centres of Kerala. Thekkady features famous Periyar Wildlife Sanctuary with Indian Elephants, Tigers, Gaurs and Bisons, a delightful artificial lake with a dam and boating facilities and the Cardamom Hills of Western Ghats offering some of the most fragrant treks. Ponmudi hill resort has a pleasant healthy climate and rich mineral water springs. Chennai is the capital of Tamil Nadu, the fourth largest city of India and is known as 'The Gateway to the South India'. Coimbatore is the Textile Capital of South India while Poompuhar is an archaeologist's delight. Trichy is famous for artificial diamonds and cigars. Unravel the glories of South Indian cities and explore for some of the most amazing and interesting tourist destinations amongst the cities of South India.