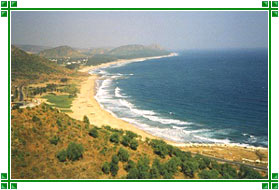 Situated on the shores of Bay of Bengal, Vishakhapatnam is bounded by the rocky outcrop known as Dolphin's Nose boasting a beautiful beach with a long beach road. The dense forests of Eastern Ghats on its west and mighty rivers such as Godavari and Indravati on its east, it is also known as Vizag. Surrounded by three hills, each having a shrine of their own belonging to a different religion, namely Venkateshwara temple on Venkateswara Konda, Baba Ishaq Madina Dargah on Dargah Konda and Church of the Virgin Mary on Rose hill. The city has been named after the God of 'Valor-Vishakha', and was once a part of the Kalinga Kingdom, which came under Ashoka's rule in 260 B.C. and it is reputed that it was the Great War here that changed the heat of the emperor. After that the Andhra Kings of 'Vengi', Pallavas, Cholas and rulers of the Ganga dynasties ruled the city. Finally, it was annexed to the Vijayanagar Empire in the 15th century.
Dominated by the Europeans since the 17th century, the Dutch, the French and the English used this port city as a major trading center to export textiles, ivory, tobacco, indigo and other items. It was a major port during the reign of the Asaf Jahis and the Golcondas. An important shipbuilding centre, Vishakahapatnam has the glory of launching the first steamer built in India in 1948. It is the only protected harbor on the Coromandel Coast. The major industries of the are are agriculture, shipbuilding, oil refinery, fertilizer, petrochemicals, steel mills and a naval base. The true attractions of Vishakhapatnam are its lakes, cool beaches, beautiful hill ranges, caves, temples and valley enclosures. The annual tourism event 'Vishakha Utsav' held for three days from the third Friday to Sunday in the month of January, is not the one to be missed.
Shopping Attractions:
A city of shopkeepers, the shops of one commodity can be found huddled together here. Earlier the area around Kurupam market was famous for Gold and Silver shopping. Jewellery shops at Dwaraka Nagar, saris and handicrafts at Lepakshi are good ideas.
Visakhapatnam Tourist Attractions
Indira Gandhi Zoological Park amidst the scenic locales of Eastern Ghats of India is enveloped by hills on either sides and Bay of Bengal on the east.
How to Reach Visakhapatnam