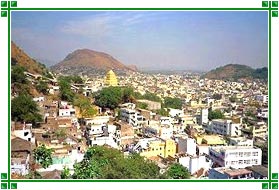 Vijayawada or Bezawada is situated on the shores of the Krishna River and is bounded by the Indrakiladri hills on its West. The largest railway junction of the South Central Railway, it is situated along the Chennai-Howrah and Chennai-Delhi rail route. Sprawled across an area of 58 sq km, the literal meaning of Vijayawada is the 'City of Victory'. It is named after the popular legend, which states that at the Indrakiladri Hill, Arjuna, the Pandava Prince had succeeded in winning the blessings of Lord Shiva after hard penance. The city progressed under the British rule. The Krishna Barrage and the Railway Bridge on River Krishna have helped in the expansion of the city's agricultural and commercial base. Today, Vijayawada is one of the big business centers of the State.
A number of temples are there in Vijayawada including the abode of Kanaka Durga (Goddess of power, riches and benevolence), the presiding deity of the city. A base for important Buddhist sites around the city including Amaravati, Gudivada and Ghantasala, it also an important base to visit Kuchipudi, the city of dance, Mangalagiri, the city of temples and Kondapalli, the city of handicrafts. 'Krishna Pushkaram', an all-India festival held once in twelve years and delicious mangoes and pickles are also a specialty of the place. A centre for Carnatic music and 'Kuchipudi' style of classical dance, it houses Andhra Pradesh Dance and Music College, Natraj Kala Samiti and Kanakadurga Gana Sabha. K L Rao Vihara Kendram on Prakasham Barrage Lake offers a variety of water sports including rowing, canoeing, water-scooters and pedal boats.
Shopping Attractions:
One can buy everything here from antiques, handicrafts and jewellery to dresses, leather goods, pearls, and semi-precious stones. Kaleshwara Rao Market is the famous vegetable market while Vastralatha is a wholesale cloth market. Gandhi Nagar is famous for shoe making Industry and is one of the entertainment areas in Vijayawada. The nearby toy-making village of Kondapalli and 'Kalamkari paintings' at Machilipatnam, Vijaywada offers a delightful shopping experience.
Vijaywada Tourist Attractions
Completed in 1957, the Prakasam Barrage is built across Krishna river andis 1223.5 m long. Its panoramic lake and three canals runs through the city giving it a beautiful appearance.
How to Reach Vijaywada