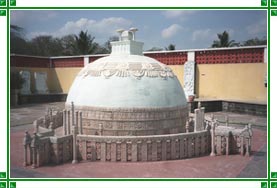 The world-renowned Sri Venkateshwara Temple at Tirupati is said to be the richest temple the world over and is the most prominent pilgrimage attraction of Andhra Pradesh. However, there are many other pilgrimage centers that are noteworthy for their popularity and the number of pilgrims who visit the place. Ahobilam is a reputed pilgrimage centre for the Vaishnav sect of the Hindua while Amaravati situated in Sattenapalli Taluk of Guntur District is famous for the Lord Amareswara Temple dedicated to Lord Shiva and the world-famous Buddhist sculptures. One of the rare Lord Surya Temples can be seen at Arasavalli while Bhadrachalam situated on the shores of River Godavari is considered to be one of the greatest holy shrines of South India and it is believed that it has been the abode of Lord Rama for some time. Simhachalam or the 'Hill of the Lion' has an 11th century on its top dedicated to Lord Narasimha with the body of a man and the claws and the face of a lion. Srisailam is reputed as one of the twelve Jyotirlingas in India, while Puttaparthi is very famous and one of the most visited places of Hyderabad, where people from all over the world come to have a glimpse and blessings from Sri Satya Sai Baba.
Amaravati
:
Amaravati is famous for its world famous Buddhist sculptures and the Lord Amareswara Temple dedicated to Lord Shiva. It is said that three principal things that make Amareswaram so sacred are River Krishna, on whose banks it is situated, an important Kshetra with a 'Sthalamahatyam' and the Sri Mahalinga Murthy, which is said to have embodied three sacred principles in one. It is said that in this temple, Lord Siva is in the form of five lingas that have been named as Pranaveswara, Agasteswara, Kosaleswara, Someswara and Parthiveswara. However the principal deities of the temple are Lord Amareswara and his consort, Bala Chamundika, the fourth of the 18 goddesses.
Tirupati
:
152 km of Chennai, Tirupati, the abode of the Hindu god Venkateshvara or the Lord of Seven Hills, is the backbone of Andhra Pradesh plgrimage and tourism industry. The world-renowned temple is situated at Tirumala hill, 10 km from Tirupati, at an altitude of 750 m above sea level. The strict rituals followed here are evident from the fact that until late 19th century, non-Hindus were not permitted to ascend the hill itself. The ancient shrine have blossomed with the generous aids and contributions of the all the kings from great dynasties of the southern peninsula including the Pallavas of Kancheepuram, the Cholas of Thanjavur, the Pandyas of Madurai, and the kings of Vijayanagar empire.