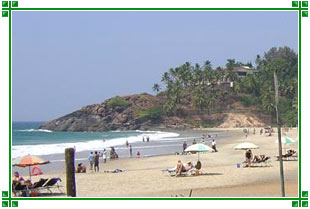 Great seas and oceans cover Deccan India from three sides with Bay of Bengal at its east, Arabian Sea at its west and great Indian Ocean washing off its feet in the south. With such a long rugged coastline, it offers a number of memorable beaches that make one of the most favored tourist hotspots of India. The unspoiled beaches have been maintained in their own natural form, though some of the most luxurious resorts, food stalls and souvenir shops have sprung up on the sea front to cater to the needs of the tourists who come here fascinated by the blue waters and the skies to gaze at the mesmerizing sunsets and sunrises of the beaches and indulge in the beach activities of thrilling aquatic sports, swimming and bathing along with the shore activities of beach-walking and sunbathing to give their body a beautiful tan as a natural beauty and health treatment.
Karnataka sports a number of beaches on the shores of gentle Arabian sea with swaying palm trees and a number of silvery beaches along the 320 km coastline that are perfect beach family destinations offering activities such as fishing and angling, swimming, boating, windsurfing and sun or sea bathing. Just laying on the soft sands and watching children making sand castles and collecting seashells is a good pastime. You may simply fall in live with the spontaneous coastal folk and the mouth-watering, finger-licking typical seafood cuisine of Karnataka. Murudeshwar Beach, Malpe Beach and Maravanthe Beach are some of the most famous beaches of the state. The green lands of Kerala offer the world's finest and most scenic beaches such as Kovalam Beach, Varkala Beach, Sankhumugham Beach and Thirumullavaram Beach. An occasional fishing hamlet, solitude and quietness of the place along with panoramic view from the lighthouses are the added attractions of the beaches of Kerala.
The 600-km long shoreline of Kerala features natural harbors, lagoons and sheltered coves. Kovalam's three adjacent crescent beaches, Varkala Beach's beautiful seaside resort and spa, Shanghumugham Beach's sunsets and Alappuzha Beach's 140-yr-old pier seduce tourists to visit them. Tamil Nadu's capital Chennai has the world renowned 12-km long stretch of Marina beach while Rameshwaram, a major pilgrimage centre for Hindus showcases calm and serene sea, rare sea species, coral reefs, multitude of marine life such as algae, sea cucumber, crabs, starfish, sponges and sea cows, dolphins and shallow waters. It is ideal for sunbathing and swimming day and night. Other famous beaches of Tamil Nadu are Covelong Beach, Elliot's Beach, Chunnambar Beach, Pichavaram Beach and Poompuhar Beach. Surf along to the most exotic beaches of South India.