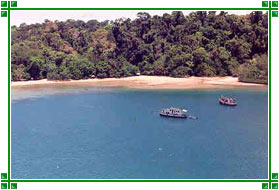 The most popular Islands of this archipelago is Jolly Buoy Island in Mahatma Gandhi Marine National Park that offers excellent underwater views of coral and marine life and is an ideal place for snorkeling, sea bathing and basking in the sun on the beach. Cinque Island offers opportunities for scuba diving, swimming, fishing and camping along with beautiful underwater coral gardens and unspoiled beaches especially a sand bar joining two islands. Red Skin Island in Mahatma Gandhi Marine National Park offers a nice beach and spectacular views of corals and marine life. 38 km from Port Blair, Havelock Island offers virgin beach, unpolluted environment and camping facility. 135 km from Port Blair, Barren Island is the land only active volcano in India and its crater rises abruptly from the sea.
Ross Island was once the seat of British power and capital of these Islands. The only things to be seen here today are ruins of the old structure and a small museum named 'Smritika' with photographs and the other antiques of the British related to these islands. Viper Island was once used by the British to harbor convicts and was the venue of the first jail constructed here. However, it was abandoned after the construction of Cellular Jail. The gallows atop a hillock was the place where the condemned prisoners were hanged and it was the place where Sher Ali (who killed Lord Mayo, the then Viceroy of India in 1872) was hanged. Chatham Island has the biggest and oldest Saw Mill in Asia and the Island Harbor. Haddo Harbor is also nearby.
Sandy beaches of Andaman & Nicobar Islands these islands are famous for turtle nesting and the aquatic life here includes Leather Back Turtle, Green Sea Turtle, Hawksbill Turtle, Olive Ridley Turtle, Water Monitor Lizard, Salt Water Crocodiles and Reticulate Python. Corbyn's Cove Tourism Complex is ideal for sea bathing and sun-basking. Radhanagar and Vijaynagar Beach in Havelock offer unpolluted environment while Harminder Bay Beach is situated at Hut Bay island, 100 km from Port Blair connected by Inter Islands shipping services. Karmatang Beach at Mayabunder is a turtle nesting ground doubling as a tourist complex. Ramnagar Beach at Diglipur Island is a sandy beach connected by two daily boat services from Mayabunder.