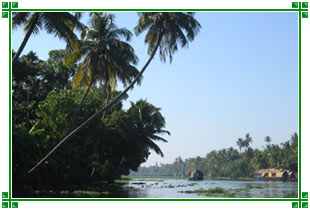 South India or Deccan India consists of the peninsular half of India surrounded by Arabian Sea on its west, Bay of Bengal on its East and Indian Ocean to its south. At is southernmost tip stands Kanyakumari, the confluence point of all the three huge water bodies merging into one. With rich alluvial soil, tropical climate and Western and Eastern Ghats bordering around the coastal line on the West and the East respectively, it consists of roughly four states, namely, Andhra Pradesh, Karnataka, Kerala and Tamil Nadu, each with a different fervor, regional language and cultural identity. The Telugu-speaking state of Andhra Pradesh is situated towards the south of the Vindhyachal ranges. To its west, is the Kannada-speaking state of Karnataka. To the south of Karnataka is the Malayalam speaking state of Kerala famed as the most literate state in India with 100 % literacy rate. Last but not the least is the land of Tamils with its rich cultural past, scientific fervor and ancient literature.
Andhra Pradesh Tourism
Andhra Pradesh embodies the true sense of secularism in India as people of all faiths, mainly, Muslims, Buddhists and Hindus live here is perfect harmony. Ruled by the various dynasties since 300 BC such as Mauryas, Pallavas, Cholas, Satavahanas, Chalukyas and Vijayanagar, Andhra Pradesh has got a rich historical and architectural legacy in the form of edifices, monuments and architectural ruins that can be seen today.
Karnataka Tourism
Karnataka arouses and titillates all our five senses at once with classical Carnatic Music famous throughout the World pleasing our ears. Known as the Capital of Agarbatti (incense sticks), Karnataka is also known for the aromatic coffee, arecanut and sandalwood plantations and the fragrant cool breezes of the land that blows across its beaches.
Tamilnadu Tourism
A tourist's paradise, Tamil Nadu has a glorious culture, rich history and though it is a land of tradition and religion, it is also in step with the modern developments and achievements. Blue beaches and clear skies lend their own ethereal charm to the state as one explores the Marina beach and other beaches of the state.
Andaman Islands
The inaccessible and mysterious islands of Andaman and Nicobar Islands are now within reach of the inquisitive tourists who fly or cruise to the place to take a look at these paradisiacal tropical islands of Bay of Bengal that are an epitome of beauty and present scenic natural picturesque panorama created by its dense forest covers, multitude of exotic flowers, colorful plumaged friends and solitary and cozy romantic atmosphere.
Lakshadweep Islands
The tiniest Union Territory of India with only one district, Lakshadweep is spread across just 32 sq km and is an archipelago that consists of 12 atolls and three reefs along with 10 inhabited islands, 17 uninhabited islands attached islets, 4 newly formed islets and 5 submerged reefs in the Arabian Sea.
Pondicherry Tourism
The Union Territory of Pondicherry with a 32 km long coastline on the Coromandel Coast is a well-planned French Boulevard town. A perfect family holiday destination, it has everything that helps one to relax and enjoy. The numerous palm-fringed beaches, splendid seafront resorts, beautiful backwaters, wondrous opportunities and facilities for water sports centre, fabulous tiny fishing villages and hamlets and handy harbor make it a much-beloved tourist spot.