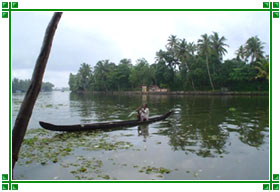 Destinations Covered:
Alleppey
Duration:
01 Night / 01 Day
Day 1
Pick up from Alleppey Finishing Point Jetty at 1200 hours.
Alleppey
- One of the best ports along Malabar Coast and an important trade centre, Alleppey is known for a large network of inland canals. A hub and a base for most of the backwaters and boat cruises, has carved out quite a name for Alleppey and large number of tourists visit the city every year. These backwater cruises are the best way to see the glimpse of the rural life style of Kerala where natives still indulge in the traditional, outdated and laborious tasks of toddy tapping, fishing, coir-making industry and prawn farming and see the greenery and the rich avian life thriving in many of the lake islands.
Cruise through Pallathuruthy River, Pookaitha River, and Pullangady and reach Champakulam. The highlights of this waterlogged village are St. Mary Forane Church of the 5th century with its mural paintings, 200-year-old Champakulam Church, the famous snake boat known as Champakulam Chundan, Kottaram temple and the oldest angadi or the market place known as Kalloorkkadu angadi. Proceed to Munnattumugham for night stay. Enroute stop at Nedumudy to visit the local market.
Day 2
Cruise starts after breakfast and passes through Chennamkery, Kainakary, Pallathuruthy and Kuppapuram (all small villages) to reach Alleppey Finishing Point Jetty at 1000 hours.