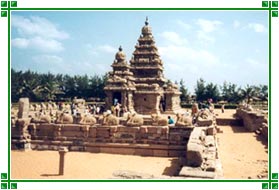 Destination Covered:
Chennai - Mahabalipuram - Pondicherry - Trichy - Madurai - Periyar - Kumarakom - Cochin - Bangalore - Mysore
Duration:
15 Nights / 16 Days
Day 01 Arrive Chennai
Arrive Chennai Airport by International flight.
Meeting, assistance on arrival and transfer to hotel and overnight.
Day 02 Chennai
After breakfast sightseeing tour of Chennai.
Chennai
- Chennai or Madras is a bustling metropolitan city of India and the capital of Tamil Nadu. It is home to the famous Marina Beach, the second longest beach in the world. One can see here the archaeological section and bronze gallery of the Museum, Dravidian style Lord Shiva's Kapaleeshwar Temple, East India Company's St. George Forte, Santhome Cathedral, Parthsarthy Temple, Guindy National Park and Snake Park.
Afternoon at leisure & overnight at the hotel.
Day 03 Chennai-Kanchipuram-Mahabalipuram Drive 134 Km
After breakfast drive to Mahabalipuram enroute visiting Kanchipuram.
Kanchipuram
- The city of thousand temples, Kanchipuram is one of the seven most sacred Hindu pilgrimage centers in India. Besides the thriving handloom and cotton industry, it is known for its 108 temples dedicated to Lord Shiva, 18 temples dedicated to Lord Vishnu, Adi Shankararchya's Ashram and silk weavers that have been living here for more than four centuries and are known to produce best silk sarees in the entire country.
On arrival check-in at hotel.
Overnight at the hotel.
Day 04 Mahabalipuram
Full day excursion to Mahabalipuram Temples.
Mahabalipuram
- The shore temples of Mahabalipuram or Mamallapuram are known all over the world as an open stone art gallery and present stone sculptures that can be seen strewn all over the city along with the structured and chariot-shaped temples known as 'Rathas' and artificial caves cut out from volcanic rocks of Deccan India. However, the spotlight in the city falls on the Shore Temple on the beach.
Overnight at the hotel.
Day 05 Mahabalipuram-Pondicherry Drive 132 Km
After breakfast drive to Pondicherry.
On arrival check-in at hotel.
Afternoon sightseeing tour of Pondicherry.
Pondicherry
- With a rich history evolved with the settlements of Greeks, Romans and French, Pondicherry has a cosmopolitan outlook. It is said to be the residing place of Sage Agastya with a spiritual aura. It is home to grand boulevards and colonial mansions such as Aayi Mandapam, Palais du Gouvernement, Ananda Ranga Pillai's Mansion, Goubert Avenue or Beach Road, French War Memorial, the Statue of Dupleix, 19th Century Lighthouse, Romain Rolland Library, Botanical Garden and Aquarium, the Anglo-French textile mill, churches, Aurobindo Ashram, Auroville and the Matri Mandir.
Overnight at the hotel.
Day 06 Pondicherry-Trichy Drive 243 Km
After breakfast drive to Trichy via Kumbakonam, Swamimalai, Tanjore.
Kumbakonam
- Kumbakonam of Thanjavur district of Tamil Nadu is a small temple city situated on the banks of river Cauvery. The highlights of the city are the Mahamaham festival held once in every 12 years, almost sixty temples, various small-scale industries and prestigious educational institutions such as Government Arts College known as 'Cambridge of South India', Kumbeswarar Temple, Sri Abhimugheswarar Temple (the venue of Maham festival), Sri Nageswaran Temple, Sri Kasi Vishwanathar Temple (venue for Aadipuram and Maasimaham festivals), Sarangapani Temple, Sri Gowthameswarar Temple, Brahman Temple, Ramaswamy Temple, Someshwar Temple, Amman And Shiva Temple, Sankara Mutt and Raghavendra Mutt.
Tanjore
- Thanjavur or Tanjore are often referred to as the 'Rice Bowl of South India' and is the centre of Tamil literature. The highlights of the city are the circular building of Tamil University and Dravidian style Brihadeeswarar Temple built by Raja Chola.
Swamimalai
- 30 km from Tanjore, Swamimalai a small city believed to be one of the six abodes of Lord Skanda (also known as Lord Subramanya). Known for its sculptors, its is believed that Lord Subramanya reinitiated his father Lord Shiva here by explaining to him the meaning of Om (or Pranav).
On arrival check-in at hotel & Overnight.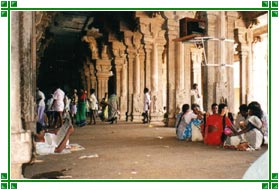 Day 07 Trichy
After breakfast sightseeing tour of Trichy.
Trichy
- Tiruchirappalli or Trichy is the fourth largest city of Tamil Nadu. Passing hands from Cholas to Pallavas to British, Trichy has a long history. Its highlights are the Rock Fort, several Churches, Colleges and Missions of the city are worth seeing. It was built by the Nayaks of Madurai and is the witness to the famous Carnatic wars that decided the fate of British and French in India. It is also known for its artificial diamonds and cigars.
Afternoon car at disposal & overnight.
Day 08 Trichy-Madurai Drive 142 Km
After breakfast drive to Madurai.
On arrival check-in at hotel.
Afternoon sightseeing tour of Madurai, which terminates witnessing night ceremony at Minakshi Temple.
Madurai
- Famous for the Meenakshi Temple, around which Madurai was built in shape of a lotus, this temple town of South India was once the capital of the Pandya rulers. Originally, it was named as 'Madhurapuri' as it is said that Lord Shiva showered divine nectar here on the day it was to be named. Jasmine flowers of Madurai are very famous.
Ovenright at the hotel.
Day 09 Madurai
Full day excursion to Rameshwaram.
Rameswaram
- Connected to the mainland of India via Pampan bridge, Rameswaram is home to one of the grandest temples in the whole country, the Ramanathaswami temple. It is said to have been built at the spot where Lord Rama worshipped Lord Shiva on his way back from Lanka after he slew the Ravana. This temple has the 1220 m long corridor, the longest in a temple.
Overnight at the hotel.
Day 10 Madurai-Periyar Drive 160 Km
After breakfast drive to Periyar.
On arrival check-in at hotel.
Afternoon sharing boat cruise on Lake Periyar to see Periyar Sanctuary.
Periyar Wildlife Park
- Best-known wildlife sanctuary in South India, Kerala's Periyar Wildlife Sanctuary and Tiger Reserve is famous for wild Indian elephants and a century old artificial lake set in the beautiful thick woods of Western ghats. The other highlights here are Nilgiri Langoors, Nilgiri Tahrs, Bisons, Deers and Antelopes. Besides one can spot about 100 species of butterfly and 240 species of birds here and take a tour of the aromatic spice gardens around the park.
Overnight at the hotel.
Day 11 Periyar-Kumarakom Drive 114 Km
After breakfast drive to Kumarakom.
On arrival check-in at hotel & overnight.
Day 12 Kumarakom
Full day at leisure.
Kumarakom
- 14 km from Kottayam, Kumarakom is situated on the shores of Vembanad Lake in Kerala in the 'Kuttanad region' known as the rice bowl of Kerala. A cluster of little islands on the Vembanad Lake, the 14-acre bird sanctuary in Kumarakom is a favourite haunt of migratory birds such as Egrets, Darters, Herons, Teals and Siberian Storks. However, boat cruising in Kettuvallams, traditional houseboats of Kerala, round the islands is the best way to spot them.
Day 13 Kumarakom-Alleppey-Cochin
After breakfast backwater cruise from Kumarakom to Alleppey.
Kettuvallams, the old rice-barges or Kera;a has now been converted into houseboats and are much popular with the tourists. Surprisingly, it is hand-made and not even nails are used to make these boats. The slow movement of the boats suit the purpose of leisurely enjoying the colorful village scenery of the South. After breakfast, cruising through Azhikkal Canal passing through Kuppapuram, Pallathuruthy, Swamy Canal, Meenappally Kayal, Muttael Canal, Kainakary Church Canal, Vatta Kayal, Venattukadu Canal, Aakkathara Canal and Paddy fields is once-in-a-lifetime experience. The cruise starts mainly from Ashtamudi Lake while the canals are well linked with Kottayam, Alleppey, Changancherry, Quilon and Kumarakom.
Alleppey
- One of the best ports along Malabar Coast and an important trade centre, Alleppey is known for a large network of inland canals. A hub and a base for most of the backwaters and boat cruises, has carved out quite a name for Alleppey and large number of tourists visit the city every year. These backwater cruises are the best way to see the glimpse of the rural life style of Kerala where natives still indulge in the traditional, outdated and laborious tasks of toddy tapping, fishing, coir-making industry and prawn farming and see the greenery and the rich avian life thriving in many of the lake islands.
Later drive Alleppey to Cochin 64 km, check-in at hotel.
Afternoon sightseeing tour of Cochin.
Cochin
- Kochi (Cochin) is rightly termed as the 'Queen of the Arabian Sea' with a number of islands and promontories between the Arabian Sea and backwaters. It spreads across modern Ernakulam in the east and the old districts of Mattancherry and Fort Cochin in the west,which are interconnected by romantic ferries and bridges. The profound foreign influence can be seen in the architectural styles of its monuments. Some of the city's highlights are spice markets, Chinese fishing nets, Jewish synagogue, Portuguese palace, India's first European church, Dutch homes and Kathakali dance performances.
Evening sunset cruise in Cochin.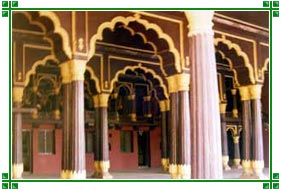 Day 14 Cochin-Bangalore-Mysore
After breakfast transfer to Cochin airport in time to board flight for Bangalore.
Assistance upon arrival and proceed for sightseeing tour of Bangalore.
Bangalore
- The Silicon Valley of India, Bangalore has managed to keep itself closer to nature than most of the other metropolitans in India. Hence, it is also known as the City of Gardens. The city highlights are the Bangalore Fort housing 16th century Ganapathi Temple, Tippu Palace famous for its carving and paintings, 17th century Venkataramanaswamy temple, Lal Bagh, Botanical Gardens, Bull Temple, Gangadhareshware temple or Cave Temple, the Dharmaraja Temple, the Ravindra Kalakshetra, St. Mary's Church, Gandhi Bhavan, the famous racecourse and Vidhana Soudha, a neo-Dravidian granite building near Cubbon Park.
Later drive to Mysore enroute visiting Srirangapatnam.
Srirangapatnam
- The erstwhile capital of Tippu Sultan, it is 16 km from Mysore. Srirangapatnam is situated on the shores of river Cauvery and is home to the famous Ranganathaswamy temple. It was also the venue for the historic fight of the valiant Tipu, where he fought against the British, in alliance with the French. The other highlight of the city is the Tippu's Mosque in the fortress with its twin minarets.
On arrival check-in at hotel for overnight.
Day 15 Mysore
After breakfast full day tour of Mysore and visit to Somnathpur.
Mysore
- The City of Palaces, Mysore is home to Mysore Palace built by Wodeyars in the Indo-Saracenic style with its Golden Royal Elephant Throne, Durbar Hall, Kalyana Mandap and Gallery. The other city highlights are St. Philomena's Church, one of the largest churches in the country, monolith of Nandi bull on the slopes of Chamundi, the 2000-year-old Chamundeswari Temple and the Brindavan Gardens with musical and colorful fountains.
Somnathpur
- 45 km from Mysore, it is known for the 13th century temple with star-shaped base decorated with miniature masonry elephants guarding the massive structure. It is an excellent example of the Hoysala architecture. The temple wall depict scenes from Ramayana, Mahabharata and Bhagvada Gita.
Overnight at the hotel.
Day 16 Mysore-Bangalore
After breakfast drive to Bangalore airport for onward flight.