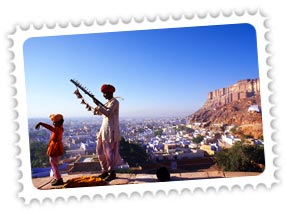 Location:
Approximately at the center of Rajasthan
Highlight:
Mehrangarh Fort, Rohetgarh Fort, Umaid Bhawan Palace
Best Time to Visit:
October to March
How to Reach:
Jodhpur has its own airport and railway station. It can be reached from anywhere in Rajasthan via a wide network of roads.
The second largest city of Rajasthan, Jodhpur is one of the most sought after tourism spots in India. Rao Jodha, chief of the Rajput clan founded this place in the year 1459. Jodhpur was thus named after its founder. The city of Jodhpur is famous for its fabulous forts and palaces that should not be missed visiting at any cost. Also known as the "Sun City", Jodhpur is located roughly at the center of the state of Rajasthan.
Jodhpur can be reached easily from anywhere in Rajasthan and also from places around Rajasthan. Your Jodhpur travel will be filled with fascinating experiences, as you would find the city of Jodhpur absolutely marvelous. It has a subdued yet powerful charm that attracts and enthralls all visitors. Check out our related sections that will give you information about what to see in your travel to Jodhpur in Rajasthan.
Mehrangarh Fort
One of the largest forts of India, the Mehrangarh Fort in Jodhpur is an imposing structure with massive walls that stand undeterred till today. Situated at a staggering height of around 400 feet on a high undulating hill, Mehrangarh Fort in Rajasthan is truly an architectural wonder. More...
Rohetgarh Fort
The Rohetgarh Fort of Jodhpur is one of the prime tourist attractions of Rajasthan. Anyone visiting India should not miss this great fort that is now known as Rohetgarh heritage hotel. The Rohetgarh Fort was built in the 16th century by Thakur Dalpat Singh of the Rathore clan. More...
Umaid Bhavan
Located on the Chhittar Hill in Jodhpur, Umaid Bhawan Palace is one of the last palaces to be built in India. The grand Umaid Bhawan Palace in Rajasthan took almost 16 years to be constructed. Maharaja Umaid Singh is credited with having this beautiful palace built. More...