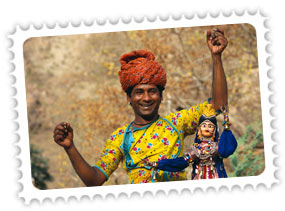 The culture of Rajasthan is very distinct and unique and stands out in India. The unique amalgamation of diverse topography, history and intriguing lifestyle is what gives Rajasthan culture its rich heritage. The rich culture in Rajasthan is visible in each and every aspect of the state. The colorful attires, the heavy jewellery, the palatial mansions and havelis, the diverse and joyous festivals and fairs, all are symbols of the rich and unique culture of Rajasthan. Read on to know more about the cultural heritage of Rajasthan.
The dull and harsh living condition of people in Rajasthan is made a bit colorful and lively by the multitude of fairs and festivals that are celebrated there. The only way people here enjoy the simple pleasures of life is by celebrating each and every occasion and event on a grand scale. Any festival, big or small is celebrated with much enthusiasm and joy. Rajasthan comes alive in a riot of colors and activities during fairs and important festivals. Monsoons are also the time to indulge in festivity and grand feasts, as rains are an occasion to celebrate in Rajasthan.
The most commonly language spoken in Rajasthan is Hindi. The natives of Rajasthan speak in Rajasthani and Marwari. Hindi is fast catching up and is also the official language of the state. The people over here are very religious and follow all rituals and traditions piously. Hinduism is the dominant religion here followed by Islam, Jainism, Sikhism and Christianity. The architecture of the state is also a very evident aspect of the culture of Rajasthan. The magnificent mansions and havelis speak volumes about the royal historical grandeur of the place. The forts and palaces are living testimonies of the rich cultural heritage of Rajasthan.
Rajasthan is famous for its exquisite embroidery. The most unique thing about this embroidery is that it is totally done by hands and no machines are involved. The designs like block printing, Zari, Bagaru, Tie and Die, Sanganeer, are famous all over the world and are also exported to many countries abroad. The place is also famous for its Kundan and Gold jewelry, brass work, etc. Another famous product of Rajasthan is the famous Rajasthani Bandhni Saris. Come to Rajasthan and experience the regal cultural heritage of this beautiful state.