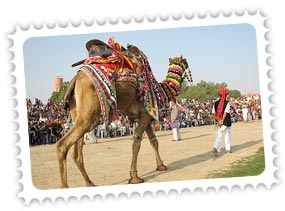 Location:
Bikaner, Rajasthan
Main Attraction:
Parade of beautifully ornamented camels
Best Time to Visit:
October to March
Known as the Ship of the Desert, the Camel has been a fundamental part of the lives of the Rajasthani lifestyle since time immemorial. In order to acknowledge the importance of this useful animal, the Camel Festival of Bikaner is celebrated on a grand scale in Rajasthan. Every year in the month of January, Bikaner comes alive with the grand celebration of the Camel Festival. This grand spectacle should not be missed in case you traveling in India in January. The Tourism Department of Rajasthan Government organizes it. Read on about Camel Festival of Bikaner.
The festival starts with a vibrant procession of beautifully decorated camels that march gracefully against the backdrop of the massive Junagarh Fort. The procession goes till the open grounds of desert sands and then begins the various activities that include tug-of-war contests, camel dance competitions, puppet shows, acrobats, etc. There is also a competition where the best breed of camel is chosen. All activities are enjoyable and are worth a visit.
The camel dance is something that enthralls all visitors who come to Camel Festival. The trainers train their camels very skillfully and they present a very fine synchronization of footwork. This is one event that leaves everyone almost breathless. To see camels dancing together to drumbeats and music is truly an awe-inspiring incident. The dancing shadows of the camels on the golden sands of the desert against the setting sun is truly a picture perfect moment. It is sure to bedazzle you when you come to visit this beautiful festival of Rajasthan. The handicrafts and curios stalls are the best places to shop for small souvenirs and knick-knacks. One of the most popular and sought after events of Rajasthan, the Camel Festival attracts lots of visitors from not just India but also the rest of the world.