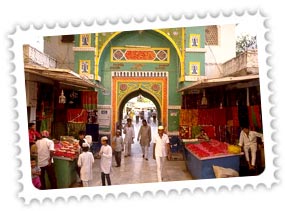 Location:
Heart of Ajmer city
Highlight:
Tomb of Muslim saint Khwaja Moin-ud-din Chisti
One of the most sacred shrines of the Muslims as well as the Hindus, Ajmer Dargah Sharif in Rajasthan is actually the tomb of the revered Sufi saint Khwaja Moin-ud-din Chisti. This famous Sufi saint came all the way from Persia and worked for the betterment of the underprivileged and the deprived class. The architectural style of Ajmer Sharief has the typical touch of Mughal style of construction and has been modified by all Mughal rulers from Humayun to Shah Jahan. In Ajmer, Dargah Sharif is one of the most famous landmarks and should be visited of you are going to Rajasthan.
The gate of the Dargah is an imposing structure that has massive silver doors that have been built in various stages. A silver railing encircles the real tomb of the saint and a screen made of marble and gold plated dome surrounds the tomb. According to legends, the saint lived for 114 years and died in solitude, locked in a room. The place is supposed to have been blessed by the saint and it is said that a true devotee will get what he wishes for sincerely.
Every year a festival is held in Ajmer Dargah Sharif in remembrance of his death. The famous Urs festival is held in Ajmer for six days in the honor of this saint. The Dargah Sharif is packed with thousands of devotees who come from all over the world. Devotees make rich offerings in the Dargah, which is known as "Nazrana". The offerings can also be something as simple as rose and jasmine flowers, sandalwood paste, perfumes and incense sticks. Others can offer cash also. Whatever is offered, be it small or big, it is done with full devotion. It is said that whoever prays sincerely at Dargah Sharif never leaves empty handed.
The place smells of rose and jasmine and other sweet fragrances. Just outside the gate of the tomb one can find "Qawwals", who are professional Qawwali singers. They sing in the praise of the saint and the high pitched hymns add to the divinity of the place. You will also find beggars, locally known as "Fakirs" who sit around the main gate begging for alms. A visit to the Dargah Sharif will leave you enriched and will provide food for the soul.