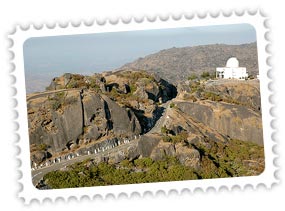 Location:
Aravali Ranges in Rajasthan
Highlight:
Dilwara Jain Temples, Raghunath ji Temple
Best Time to Visit:
February - June and September - December
How to Reach:
The nearest airport is at Udaipur at a distance of 185 kilometers. The railway station is at Abu Road at a distance of 28 kilometers. A wide network of roads connects Mount Abu with all nearby places.
The only hill station in Rajasthan, Mount Abu is the highest peak in the Aravalli Ranges. Mount Abu is located in a district named Sirohi. A very unique feature of Mount Abu is that it comprises of lakes, evergreen forests and rivers. In India, Mt. Abu is rightly called "Oasis of the Desert". The highest peak in Mount Abu is Guru Shikhar, which is located at a height of 1722 meters above sea level. Your travel to Mount Abu will truly be an experience to remember. It sure is a pleasant retreat from the arid and harsh plains. Mount Abu also has its own share of tourist attractions. Mt. Abu is fast emerging as one of the major tourism destinations of Rajasthan. So make sure you travel to Mount Abu when you visit Rajasthan.
Dilwara Jain Temples
Dilwara Jain Temples located in Mount Abu are considered as one of the finest specimens of temple architecture. Mount Abu is the only hill station of Rajasthan. In fact, the architectural style is so wonderful that some consider it superior to even the Taj Mahal. More...
Raghunathji Temple
A major attraction of Mount Abu is the Raghunathji Temple that is located near the Nakki Lake. The temple is dedicated to Shri Raghunathji. A gorgeous idol of the deity was placed in this temple in 14th century A.D. by the well-known preacher Sri Ramanand.