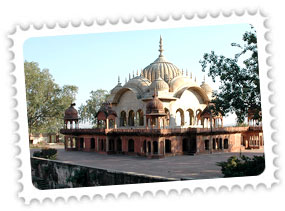 Location:
Nestled between the small ranges of Aravali
Highlights:
City Palace, Government Museum, Alwar Fort, Fateh Ganj Tomb
Best Time to Visit:
September to March
How to Reach:
The airport at Jaipur is closest to Alwar. The place has its own railway station and is also easily accessible by roads.
Alwar is a city of much historical significance in Rajasthan. It lies between the small hills located in the Aravali ranges and is situated on the north-eastern part of Rajasthan. You can travel to Alwar easily from anywhere in Rajasthan and also nearby places like Delhi and Haryana. The place has many interesting tourist attractions and it still hasn't lost its old world charm. The city still basks in its rich historical past and is fiercely proud of it. Many gruesome battles have been fought in Alwar in the past.
The place is famous for the Bala Fort also known as Alwar Fort. The walls of this fort stretch as far away as 5 kilometers. This fort was supposed to have been built even before the rise of the Mughal Empire. Another famous tourist attraction is the City Palace or Vinay Vilas Mahal. The Palace was built in the 18th century and is an imposing structure that symbolizes Mughal architecture. The upper chambers of the Palace have been converted into a museum, while the ground floor has offices of government. Another famous museum is the Government Museum, which has a huge collection of Mughal paintings and artifacts.
The most famous place near Alwar is the Sariska National Park. Alwar is said to be the Gateway of Sariska national Park. Tourists often visit the Park, as it is quite famous all over the world for having a good population of wild tigers. The Park is a part of Project Tiger campaign and is famous for its 'friendly tigers'. You can also visit the Alwar Fort, which is an imposing structure that still stands strong. Alwar is also a good place to indulge in some shopping. The place is famous for its handicrafts and a special kind of sweet known as "Kalakand" that will leave you asking for more.