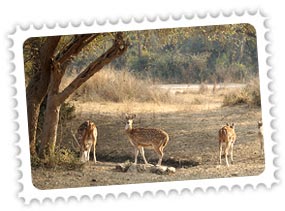 Location:
Alwar district, Rajasthan
Highlight:
Renowned Tiger reserve
Best Time to Visit:
October to March
How to Reach:
The Jaipur airport is nearest to Sariska at a distance of 107 kilometers. Alwar railway station is the nearest railway station to Sariska. The national park can be easily reached via roads also.
The Sariska National Park in Rajasthan is one of the most visited national parks in India. It can be reached easily from anywhere in Rajasthan and also from nearby places like Delhi. The topography of Sariska National park is varied and you will find grasslands alongwith deciduous forests spread over a rocky terrain. The total area of Sariska Tiger Reserve is around 800 square kilometers. Sariska national park offers you undisturbed hours of complete calm and peace. You can laze around and watch the rich wildlife of Rajasthan or explore the ruins of ancient forts and palaces located within the national park.
Sariska was declared a wildlife sanctuary in the year 1955 and in the year 1979 it was declared a national park. The Park is open all through the year though the best time to visit the place is from October to April. There are many species of animals and birds that you can spot easily in Sariska national park. Among the animals, one can easily spot leopards, panthers, foxes, jackals, hyenas, wild cats, boar, antelope, black bucks, langur and several species of deer. The park also has a rich collection of avian population and commonly spotted birds are peacocks, woodpeckers, eagles and vultures. Also, the park boasts of a good collection of crocodiles that can be spotted basking on the banks of Lake Siliserh.
There are other attractions also in the park apart from wildlife. One can visit the Kankwari Fort that is located in the Sariska national park. It is here where Emperor Aurangzeb imprisoned his own brother Dara Shikoh. Another famous attraction here is the ancient Shiva temple located within the sanctuary. Though now in ruins, it looks absolutely mystical within the dense woods of Sariska. The most stunning feature here is of course the Sariska Palace that has now been converted into a luxurious hotel.