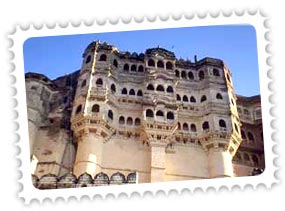 Location:
27 kilometers from Ajmer, Rajasthan
Highlight:
Striking murals and miniature paintings
Best Time to Visit:
October to March
How to Reach:
The nearest airport is located in Jaipur at a distance of 145 kilometers. The nearest railway station is at Ajmer at a distance of 27 kilometers. Kishangarh is connected to the rest of cities via a wide network of roads.
The Kishangarh Fort in Ajmer is an imposing structure that was built in the year 1653. Maharaja Roop Singh built the massive Kishangarh Fort. It is said that an incident he saw once inspired him to get a fort built. He saw a sheep that was protecting its lambs from some wolves and got the idea to build a fort that would protect his empire. The massive Kishangarh fort of Rajasthan is an undying symbol of magnificence that never fails to thrill visitors who come to India. The interiors of the fort give you an idea of the magnificent days of yore. Despite repeated attacks by external forces, the Kishangarh Fort remained undefeated.
The interiors of the Kishangarh fort are beautifully decorated with extensive murals and paintings. It is from here that the Bani Thani style of painting started and gained much popularity. One gets an idea of the lavish lifestyle of the rulers of Rajasthan. The fort comprises of several courtyards and magnificent quarters that are adorned with water fountains here and there. Kishangarh Fort has played a very important role in the cultural and historical heritage of Rajasthan.
A very popular attraction over here is the Phool Mahal, which means the Palace of Flowers. The stunning murals and wall paintings over here will definitely have you admire the place forever. The architectural details over here are exquisite and are a testimony to the splendid craftsmanship of Rajasthan. The regal quarters are quite lavish and give you an idea of the royal life led by the Maharaja here. The walls have been decorated tastefully and the delicate ornamentations and carvings only add to the splendid beauty of the place. So visit the Kishangarh Fort to get enchanted and enjoy your trip even more.