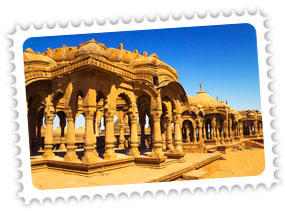 Location:
Thar Desert in Rajasthan
Highlights:
Patwon Ki Haveli, Desert National Park, Jaisalmer Fort, Nathmal Ki Haveli
Best Time to Visit:
October to March
How to Reach:
The nearest airport that connects Jaisalmer to other places via flights is located in Jodhpur at a distance of 300 kilometers. Jaisalmer has its own railway station and is connected to all major places nearby. A wide network of roads within and outside Jaisalmer makes sure that all tourist destinations are easily reachable.
Jaisalmer is one of the most frequented tourist destinations of India. This sleepy town is located in the center of the mighty Thar Desert of Rajasthan. Rawal Jaisal was the founder of the city of Jaisalmer in Rajasthan and thus it was named Jaisalmer. Jaisalmer means the "hill fort of Jaisal". This small place is famous for its stunning forts, havelis and palaces.
It was once an important trading center and was also known as Golden City. The city showcases the rich culture and lifestyle of Rajasthan in the most subtle yet prominent way. Jaisalmer tourism is fast catching and this place is emerging as one of the most sought after travel destinations in India. Read on to know what to expect when you travel to Jaisalmer.
Desert National Park
The Desert National Park of Jaisalmer is situated in the heart of the Thar Desert that is sprawled across Rajasthan. The Desert national park provides an ideal picture of the ecosystem of a desert and shows the rich and diverse flora and fauna of an arid desert. More...
Jaisalmer Fort
Situated deep inside the Thar Desert is the majestic Jaisalmer Fort of Rajasthan. It is supposed to be one of the biggest desert forts in the world. The magnificent Jaisalmer Fort is said to be around 800 years old. More...
Nathmal Ki Haveli
Nathmal Ki Haveli in Jaisalmer is a famous landmark of this place. The architecture of this mansion is a unique blend of Rajput as well as Islamic style of construction. More...
Patwon Ki Haveli
The Patwon Ki Haveli in Jaisalmer is a place that will have you mesmerized the moment you lay your eyes on it. It is considered to be one of the most beautiful and majestic havelis of Rajasthan. More...