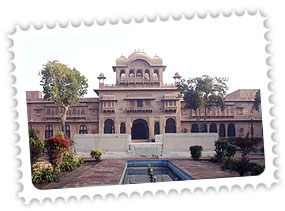 Location:
Northern Rajasthan
Highlight:
Karni Mata Temple, Junagarh Fort, Lalgarh Palace, Camel Research Center
Best Time to Visit:
October to March
How to Reach:
The airport located closest to Bikaner is at Jodhpur (243 kilometers). There is a railway station in Bikaner and this place can also be reached via a wide network of roads.
Bikaner is located in the northern part of Rajasthan. Still retaining its old world charm, Bikaner is one place in India that is known all through the world for having the best camels for riding. Bikaner also has a camel-breeding farm, which is considered to be the largest in the world. The Camel is an essential part of the lifestyle of people in Bikaner and Rajasthan. It is a very useful animal that does heavy manual work and also serves as a means of transportation in the desert. Travel to Bikaner in Rajasthan and know more about this beautiful place that is also known as the "camel country".
Bikaner is famous for its imposing palaces and forts and are a must visit if you are traveling to Rajasthan. Bikaner was founded way back in 1488 by Rao Bikaji. Bikaner is well known for its Karni Mata Temple fair that is held every year. The temple is a famous tourist attraction and is definitely visited by anyone coming to Rajasthan. Every year in January the state Government organizes a camel fair that attracts people form not just all over Rajasthan but also tourists from near and far.
Bikaner is known for its "Bhujia" which is a lip-smacking snack. Also, don't forget to visit the famous Junagarh Fort that is supposed to be an architectural wonder. It is not at all difficult to reach Bikaner since the place is well connected by air, rail and roads. The airport nearest to Bikaner is at Jodhpur, located at a distance of 243 kilometers. The airport at Jaipur is located at a distance of 320 kilometers from Bikaner. The place has got its own railway station and trains from all major cities like Delhi, Kolkata, Allahabad, etc. come over here. Bikaner is connected via highways to major cities like Delhi, Jaipur, Kolkata, etc. So visit this remarkable place and have a great experience while exploring Bikaner.