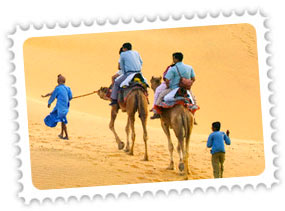 While in Rajasthan, desert safari is the ultimate way to explore the mystical charm of this royal state. The exhilarating experience of exploring the vast expanses of golden sands explored on the Camel, popularly known as the Ship of the Desert is something that should not be missed at any cost. The Thar Desert looks like a vast golden ocean and the sand dunes look like waves rising and falling in the ocean. Your camel safari in Rajasthan will be one unforgettable experience when you come to India. Read about Rajasthan safari in the following lines.
The Camel Safari in Thar Desert will take you through the rural side of Rajasthan that has a very rustic charm. You will come across scenic rural settlements and the rural folks and villagers over here are the friendliest people. They treat guests like Gods and leave no stone unturned to make them feel comfortable and at home. The thrill of finding an oasis when you least expect it and watching sand dunes change their shapes is truly extraordinary.
Exploring the desert on a starry and moonlit night is entirely different. The experience is one that cannot be explained in mere words. Far away at some distance, you might just hear the villagers playing a faint tune on a flute that has an eerie charm about it. The desert looks like it has been coated with silver paint and if you happen to catch a sand dune in a distance; it will look like a silver mountain. Indulge in some soul searching and experience tranquil under the moonlit sky with billions of starts glittering above making the moment truly magical.
To experience the best while on your Rajasthan safari, hire the camel breeders who live in the deserts. They are the best guides available, as they know the desert like the back of their palm. With them around, you need not worry about anything. You can leisurely enjoy your safari while they take care of your needs and curiosity! You need not worry at all about comforts and basic needs, as the camel carts are fully equipped with everything right from food, water to bedding. So enjoy your camel safari to the hilt and come back with great vivid memories about the whole experience.