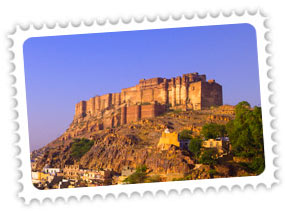 A trip to the famous monuments of Rajasthan will prove to be the most interesting facet of your visit to India. The monuments consist of not only temples and palaces but also grand forts and beautiful havelis (mansions). These monuments of Rajasthan are built in the grandest style. The splendor of Rajasthan comes alive when one visits these monuments.
The monuments appropriately display the rich historical legacy of Rajasthan. The style of architecture varies in every monument. In some you might find pure Rajput style while in others you might find a mixture of Hindu as well as Mughal style of architecture. Read our related sections to find out more about these fantastic Rajasthan monuments.
Dargah Sharif Ajmer
One of the most sacred shrines of the Muslims as well as the Hindus, Dargah Sharif in Ajmer, Rajasthan is actually the tomb of the revered Sufi saint Khwaja Moin-ud-din Chisti. More...
Hawa Mahal
One of the most famous and well-known landmarks of Jaipur is the Hawa Mahal. Built in the year 1799 by Maharaja Sawai Pratap Singh, the Hawa Mahal is known for its unique architectural style. It was designed by Ustad Lal Chand. The Hawa Mahal is also known as the "Palace of Winds". More...
Jantar Mantar
The Jantar Mantar at Jaipur is a very interesting architectural wonder. Maharaja Jai Singh II constructed the Jantar Mantar at Jaipur between 1727 and 1734. The Jantar Mantar is basically an astronomical observatory that can be used to make various cosmic observations that are otherwise hidden to the general public. More...
Nathmal Ki Haveli
Nathmal Ki Haveli in Jaisalmer is a famous landmark of this place. The architecture of this mansion is a unique blend of Rajput as well as Islamic style of construction. It is quite different from the other palaces and havelis around Rajasthan. More...
Patwon Ki Haveli
The Patwon Ki Haveli in Jaisalmer is a place that will have you mesmerized the moment you lay your eyes on it. The intricate architecture of the Haveli leaves its visitors spellbound. It is considered to be one of the most beautiful and majestic havelis of Rajasthan.