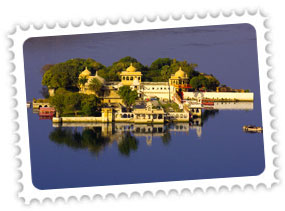 Location:
Udaipur, Rajasthan
Highlight:
Famous Lake Palace
Best Time to Visit:
October to March
How to Reach:
Udaipur is easily reachable from anywhere in India since the place has its own airport and railway station. A wide network of roads connects it with all major tourist places in Rajasthan.
One of the most famous and serene lakes in Udaipur is Lake Pichola. Rajasthan being a desert state has the natural bounty of this beautiful lake. Lake Pichola is a divine sight in the early hours of dawn when the sunrays literally paint the Lake golden in color. A boat ride on the lake is enough to lure any person to come and relax in the serene environs surrounding the Lake. It has been rightly titled as the most enchanting lake of all in Rajasthan. Anyone coming to India must visit the Lake Pichola located in Rajasthan as it will be an experience to remember.
One of the most famous highlights of the lake is the scintillating Lake Palace that is located right at the center of the Lake. This beautiful Palace has been converted into a five star hotel and stands majestically on the Lake. A boat ride on the Lake is sure to mesmerize you and keep you asking for more. The Lake is surrounded by palaces and temples and the scenic vistas will keep you occupied for a long time.
The gleaming beauty of this Lake is something that cannot be described by mere words. One has to visit the lake to see its real marvel and splendor. The surrounding environment is absolutely tranquil and it makes the perfect retreat for a tired tourist who wants to have some peace and relaxation. So come here and know about this fascinating experience for yourself!