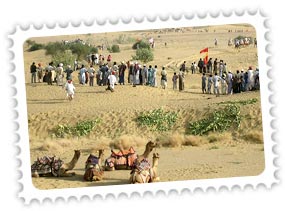 Location:
Jaisalmer, Rajasthan
Main Attraction:
The rich and colorful display of the culture of Rajasthan
Best Time to Visit:
October to March
One of the most famous festivals of Rajasthan, Desert Festival is celebrated every year in the months of January or February. It is celebrated for a duration of three days and is concluded on the day of the full moon, known as Purnima. The highlight of the Desert Festival is the display of rich culture of Rajasthan. The Desert Festival of Rajasthan is one of the most colorful festivals of India. The venue of the festival, Jaisalmer, comes alive with the celebration of Desert Festival in Rajasthan. Read further to know more about the famous Desert Festival of Rajasthan.
The people of Rajasthan dress themselves in the most colorful attires and sing local folk songs that speak of the lives of local heroes of the state. The energetic dances and the powerful singing set the perfect mood to indulge in festivity and grand celebration. The plethora of activities that take place in the Desert Festival are sure to keep you amused for three whole days. Even after that, you would want more! The main attractions of the festival are the folk dancers in their vibrant costumes and attires. They perform some very traditional dances that are exclusive to the state of Rajasthan.
The dancers perform some very thrilling acts like fire dance and near impossible acrobatic stunts. Seeing them will make you think if those bodies are made out of rubber! Other than these performances, you will find interesting acts by snake charmers, puppet shows and camel races. Known as the Ship of the Desert, camels are an integral part of any fai and festival. The camels are decorated beautifully and many contests like camel dance and camel polo are held for the amusement of all the people visiting the Desert Festival.
There are many more interesting activities that are worth a mention. Many people participate in the turban tying competition, which is a fun activity. The people of Rajasthan are known for their colorful turbans that are tied in a very unique style. When it comes to grooming, how can a beauty contest be far behind? Yes, you read that right! There is a contest to judge the best-dressed and best-looking Rajasthani. The winner is declared Mr. Desert. All this looks amazingly grand with the desert backdrop and the magnificent Jaisalmer Fort in the background. The Desert Festival must not be missed at any cost if you are visiting Rajasthan.