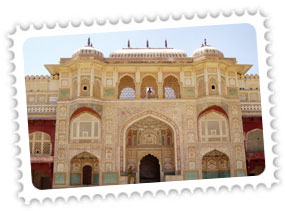 Location:
11 kilometers from Jaipur in Rajasthan
Highlight:
Beautiful carvings and a Hall of Mirrors.
Best Time to Visit:
October to March
How to Reach:
Jaipur has its own airport and railway station. From here one can reach Amber Fort by a cab. The hill has to be climbed on an elephant back or you can also go walking.
Located at a distance of 11 kilometers from Jaipur, the Amber Fort in Rajasthan is a popular tourist attraction. The Amber fort in Jaipur is a classic example of the Architectural style of the Rajputs. One finds a smooth amalgamation of Hindu and Mughal architecture in the construction of the Amber Fort. Raja Man Singh built the imposing fort on the remains of an earlier construction. It was completed by Raja Sawai Jai Singh II. The Amber Fort of Rajasthan was constructed in the year 1592 and was modified over a period of 150 years by successive rulers. Read on to know more about the famous Amber Fort of Jaipur, which should not be missed while traveling in India.
The Amber Fort is an elaborate structure that has massive gardens alongwith elaborately built gateways, pavilions, temples, beautiful palaces, etc. The interiors are elaborately decorated with exquisite carvings and mirror work and the fort is famous for structures such as Diwan-E-Aam (hall for the public), Sukh Niwas, Kali Temple and Shila Mata Temple. A perfectly manicured garden known as the Kesar Kyari adds to the beauty of the Fort. The imposing structure is built of red and white sandstone. The top of the fort can be reached by riding on elephants while soaking in the timeless beauty of Jaipur.
One of the most exquisite creations in the Amber Fort is the Sheesh Mahal. Literally translated, it means the Palace of Mirrors. A big hall that is filled with thousands of tiny mirrors all over, the Sheesh Mahal never fails to amuse onlookers. It is said that during the days of yore, a single tiny candle would illuminate the entire hall. The tiny and intricate mirrors are preserved till date and look as royal as they did then. A visit to the Amber Fort is absolutely essential if you want to see real untouched beauty.