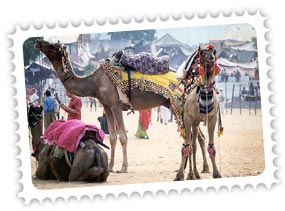 Location:
Pushkar, Rajasthan
Highlight:
Largest camel fair in the world
Best Time to Visit:
October - March
How to Reach:
The airport in Jaipur is nearest to Pushkar at a distance of 130 kilometers. The railway station nearest to Pushkar is located at Ajmer at a distance of 11 kilometers. Pushkar can be reached by a wide a network of roads from anywhere in Rajasthan and nearby places.
Hailed as the world's largest camel fair, the Pushkar camel fair in Rajasthan is a grand event held on a massive scale in Pushkar. It is also the world's largest cattle fair in general. Pushkar is thronged by lakhs of people who come here every year in November to attend the camel fair. Pushkar camel fair is one of the biggest fairs in India and one of its kinds in the entire world. Trading of livestock like camel, cattle, sheep and goats take place on a large scale and people from the farthest rural regions of Rajasthan come all way over here to take part in the fair. Read on to know more about Pushkar camel fair of Rajasthan.
The Pushkar camel fair is not just about trading camels and livestock. It is about indulging in festivity and celebration and adding some happiness to an otherwise dull life in the harsh desert like conditions. The small town of Pushkar comes alive with a whole plethora of activities and celebration. The whole ground is decorated in colorful paper streamers and small tents are put up by people coming from far away distances. The fair is started off by a camel race and is followed by musical programmes and other activities like musical programs and exhibitions.
The fair is thronged by acrobats, folk dancers, traders, magicians, musicians, sadhus and of course the ever-enthusiastic tourists who don't miss one opportunity to regale in the unspoilt glory of Rajasthan. The fair come alive with buzzing activity and everywhere you look, you find camels. The devotees take dips in the holy Pushkar Lake, which is said to be very sacred. The show stealers are undoubtedly the camels. There is also a beauty contest for camels where the owners decorate the healthiest and the best-looking camel. The price of a camel that wins the contest can go to sky rocketing amounts. The fair ends with all people going to the Pushkar and taking dips in the holy lake. This, they believe shall wash away their sins of this lifetime.