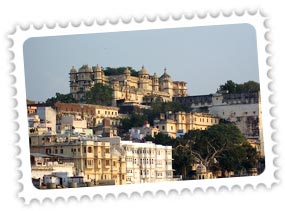 Location:
Aravali Ranges, Rajasthan
Highlights:
City Palace, Kumbhalgarh Fort, Lake Palace, Lake Pichola
Best Time to Visit:
October to March
How to Reach:
Udaipur has its own airport and railway station and so is accessible from anywhere in India. A wide network of roads connects all important tourist destinations.
Also known as the city of lakes, Udaipur is one of the most beautiful cities located in Rajasthan. People also call Udaipur as Venice of the East. Udaipur in Rajasthan is known for its lakes and palaces. Be it the famous City Palace or the famous Lake Pichola, Udaipur is known for these beautiful tourist attractions and is thus emerging as one of the most visited tourism spots. These places must be visited on your travel to Udaipur in India. Read on information about these places and know what to expect on your travel to Udaipur.
City Palace
Located in the heart of Udaipur, City Palace is a very famous landmark of this place. It is built entirely in marble and granite and looks absolutely stunning as it stands majestically overlooking the Pichola Lake. More...
Kumbhalgarh Fort
The Kumbhalgarh Fort of Udaipur is located at a distance of 64 kilometers from the heart of the city. It was built way back in the 15th century by Rana Kumbha. Kumbhalgarh Fort of Rajasthan is supposed to be the second most important fortress in Mewar after Chittorgarh Fort. More...
Lake Palace
Located on the Jag Niwas Island on Lake Pichola, stands the magnificent Lake Palace of Udaipur. One of the most famous tourist attractions of Rajasthan, Lake Palace is a five star palace hotel that looks like it has stepped out of a fantasy world. More...
Lake Pichola
One of the most famous and serene lakes in Udaipur is Lake Pichola. Rajasthan being a desert state has the natural bounty of this beautiful lake. Lake Pichola is a divine sight in the early hours of dawn when the sunrays literally paint the Lake golden in color. More...