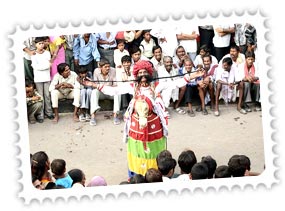 Location:
Bundi, Rajasthan
Main Attraction:
Huge procession of Teej followed by grand celebrations
Best Time to Visit:
July - August and October - March
How to Reach:
The nearest airport is located at Jaipur and the place has an important railway station located at a distance of 2 kilometers. The place can also be reached via a wide network of roads.
The Kajli Teej of Rajasthan is a very unique festival of India. Kajli Teej is celebrated exclusively in the Bundi region of Rajasthan. It is celebrated in the Hindu month of Bhadra (July-August). The Kajli Teej starts on the third day of the month and lasts for two days. The Kajli Teej festival is something that should not be missed if you are visiting India. Although the main function lasts for two days, the celebrations can go upto Janmashtami, the festival to celebrate the birth of Lord Krishna.
A grand procession marks the start of the Kajli Teej festival. In this procession, a beautifully decorated idol of Goddess Teej is paraded around in a grand palanquin. The idol is followed by beautifully decorated elephants, camels, dancers and musicians all singing and dancing and enjoying the whole celebration. The procession passes through all main centers of the city and thousands of colorfully dressed people follow this procession.
Many cultural events are organized in which people from all over Rajasthan participate enthusiastically. Various people take the center stage to showcase their talents. It is surprising to see small kids dancing and singing gracefully thus adding life and sparkle to the whole celebration. Local artists from various regions give splendid performances, something that is enjoyed by one and all. This one festival should be attended for sure if you are traveling to Rajasthan during the months of July-August.