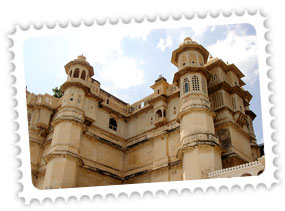 Location:
Udaipur, Rajasthan
Highlight:
Largest Palace in Rajasthan
Best Time to Visit:
October to March
How to Reach:
Udaipur has an airport and its own railway station and can be reached from any major city like Delhi, Mumbai, etc. All important places in Rajasthan are connected to Udaipur via a wide network of roads.
Located in the heart of Udaipur, City Palace is a very famous landmark of this place. It is built entirely in marble and granite and looks absolutely stunning as it stands majestically overlooking the Pichola Lake. The architecture is a combination of Chinese and European styles and the City Palace provides a fascinating sight to anyone who is visiting Udaipur for the first time. It is surrounded by imposing fort walls and is regarded as one of the largest palace complex in Rajasthan. Maharana Udai Singh of the Rajput clan originally built this palace. It was modified by successors in different ways and has been given the present look. When in India, make it a point to visit the City Palace located in Rajasthan.
The City Palace is entered through a majestic gate known as Hathi Pol or Elephant Gate. On entering, you can see one of the most beautiful temples known as Jagdish Temple where Lord Vishnu is worshipped. The beauty and simplicity of the temple is worth seeing. The palace has huge rooms and chambers that have been decorated with stunning paintings and furnishings. The palace has perfectly manicured lawns that sprawl across giving it the look of a perfect getaway.
The palace also an elephant fighting arena and marble arches and looks like a wonderland made out of white marble. This palace is very popular tourist destination and people never miss out on visiting the City Palace of Udaipur. The place will mesmerize you with its beauty and is surely a photographer's delight. A visit to this place will surely have you asking for more!