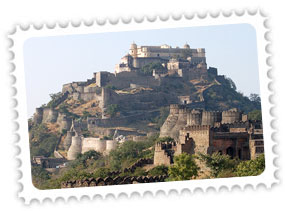 Location:
64 kilometers from Udaipur, Rajasthan
Highlight:
Interesting ruins and great panoramic views
Best Time to Visit:
October to March
How to Reach:
Easily reachable from anywhere in Udaipur as the place has its own airport and railway station. A wide network of roads also connects it to major places in Udaipur.
The Kumbhalgarh Fort of Udaipur is located at a distance of 64 kilometers from the heart of the city. It was built way back in the 15th century by Rana Kumbha. Kumbhalgarh Fort of Rajasthan is supposed to be the second most important fortress in Mewar after Chittorgarh Fort. It is located in the Aravali ranges because of which it could never be conquered, as it was inaccessible. The Kumbhalgarh Fort served as a refuge for the king of Mewar during the time of crises. However, since the fort has all facilities to withstand a siege, it was very helpful. The Fort is also the birthplace of the famous king of Mewar, Maharana Pratap.
The fort comprises of many palaces and temples most of which are in ruins. These were built by the Mauryas. The most fascinating of them all is the Badal Mahal, which means Palace of Clouds. The fort was renovated in the 19th century by Maharana Fateh Singh. One can have a superb bird's eye view of the panoramic surroundings from the fort. The walls of the fort stretch upto a distance of 36 kilometers and are wide enough to accommodate eight big stallions. A walk around the compound of the fort is very intriguing and mystical.