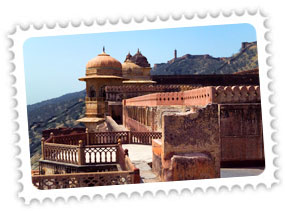 One of the most popular and desired destinations of tourists, Jaipur, also known as Pink City is a place that basks in the glory of its rich historical legacy. The ancient forts and palaces stand majestically even while life goes on in the 21st century. Jaipur is a major business center that bustles with life while still retaining its old world charm. The magnificent palaces and forts, the imposing havelis (mansions) and the imposing walls built around the city still speak volumes about the historical legacy of Jaipur. Jaipur is one of the hottest tourism spots in the world today.
The city was built over a period of almost 3 centuries and still glows in radiance of its rich cultural heritage. Your travel to Jaipur in Rajasthan is sure to leave you absolutely mesmerized and keep you asking for more. So check out our related sections to know more about what to expect in your Jaipur travel in India.
Amber Fort
Located at a distance of 11 kilometers from Jaipur, the Amber Fort in Rajasthan is a major tourist attraction. The Amber fort in Jaipur is a classic example of the Architectural style of the Rajputs.
More...
Birla Temple
Also known by the name of Lakshminarayan Temple, the Jaipur Birla Temple is a modern architectural wonder. The grand temple is located on an elevated ground at the base of Moti Dungari hill in Rajasthan.
More...
Hawa Mahal
One of the most famous and well-known landmarks of Jaipur is the Hawa Mahal. Built in the year 1799 by Maharaja Sawai Pratap Singh, the Hawa Mahal is known for its unique architectural style.
More...
Jaigarh Fort
The Jaigarh Fort of Rajasthan is located at a distance of around 15 kilometers from the center of Jaipur. It is situated 400 feet above the Amber Fort. The Jaigarh Fort in Jaipur is also known as the Fort of Victory.
More...
Jantar Mantar
The Jantar Mantar at Jaipur is a very interesting architectural wonder. Maharaja Jai Singh II constructed the Jantar Mantar at Jaipur between 1727 and 1734. The Jantar Mantar is basically an astronomical observatory that can be used to make various cosmic observations that are otherwise hidden to the general public.
More...